Source -> Assess -> Negotiate/Bid -> Purchase -> Settle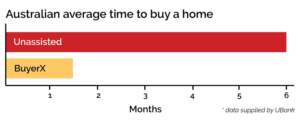 Initial Briefing Period: We work together to establish what the requirements of the property you need are and the best locations. We will review 'Sold' properties and discuss your needs, your likes, your dislikes and the options you have for different suburbs.
Property Identification and Inspection: We start identifying properties that suit your brief. We will inspect them on your behalf to eliminate the sub-par ones and only introduce you to properties worth considering.
Off-Market Property: We will contact agents in the suburbs we are targeting to source 'Off-Market' properties that you can't find yourself when searching online. However, we don't stop there we specifically target properties that are not with Agents through direct and digital strategies.
Establish Property Tour: We work towards a date where we will go out together and look at up to 8 properties that could be suitable both on and "off-market". If we don't find a suitable property, we repeat the process every few weeks until we do.
The Property Tour: We use the property tour to decide which attributes and locations are most important you or decide to begin negotiations on one of the properties.
Property Report: For every home that we are interested in we will produce a custom property report which grades the property and helps us to establish an accurate price range.
Establish Price Range: Once a property has been selected, we will look at comparable evidence, the price per square metre of land, replacement costs and any 'X factor' to establish a maximum budget that we would pay for the property.
Arrange Building Inspections: We have trusted building inspectors who will give us a very detailed report in a short time frame. – Neg only, we would advise this occurs
Check Contracts: We use our trusted solicitors or yours to review contacts. We can also add terms to the contract to give our clients advantages at settlement.
Further Due Diligence: Throughout our process, we cover off on many hours of council checks, commission housing, planning overlays and local area DD checks. We make sure that no stone remains unturned and you can proceed on a property with transparency and confidence.
Negotiation: We create a business-to-business transaction using our relationships, buying power, and tried 'n' tested negotiation techniques to purchase the property as far below the budget as possible.
Auction Bidding: If we have to go to auction, we use a number of bidding tactics to prevent the auction from running away and buy the property as far below budget as possible.
Pass in Auction Negotiation: If the property is passed into us, this is where we can often make a huge difference and often buy the property well below our client's budget.
Pre-Settlement Inspection: Just before the settlement of your home, we inspect it together and we run through a comprehensive Pre-Settlement Inspection checklist to ensure the property is in the same condition we purchased it in.