How BuyerX can boost your loan book in times of uncertainty.
There are two types of buyers in the current market. Those that are fearful, and those that are opportunistic.
We can help get both types to "decision-ready" faster.
BuyerX are local area specialist Buyer Agents that cover the metropolitan suburbs of Melbourne, Sydney and Perth.
Equipping property buyers in today's market with unbiased advice, local expert knowledge, and accurate pricing helps you maintain your deal-flow momentum. With BuyerX, the average time for buyers to be "decision-ready" is 4x faster.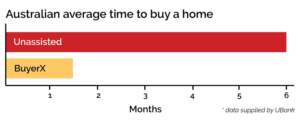 How do BuyerX get property buyers "decision-ready"?
Trusted, ethical advice
We inspect 100's of homes and keep the momentum
Our database of off-market homes
Accurate pricing models avoiding "swing and miss"
Expert negotiation and strong agent relationships
Case Study: Benefit to the broker
A BuyerX lending partner did a review of loans under management and identified one of many clients with substantial equity in their home. A passive touch-point was made to ascertain which of these clients were currently thinking about upgrading.
The outreach resulted in a number of clients requesting a review of their loans and borrowing power.
Below is a case study of one of these clients and their successful outcome.
A Client wanted to upgrade their home to prepare for a growing family. The introduction was made to BuyerX, who prepared a strategy alongside the broker which involved first selling the existing home, then searching for and purchasing a new home with a pre-approved budget.
Step 1: BuyerX met with the Client and prepared a list of trusted selling agents to interview to sell their home. A selection was made, and BuyerX negotiated the sales commission down to a low level whilst still incentivising the selling agent to work hard.
Step 2: The Client successfully sold their home for $1,200,000 and retained $600,000 in cash towards the next purchase.
Step 3: The Broker confirmed a new borrowing capacity of $1,200,000.
Step 4: BuyerX conducted a search of homes on and off-market to meet the requirements of the Client.
Step 5: The Client decided to proceed on one of the homes presented, and BuyerX performed the due diligence, market appraisal and entered into negotiations with the selling agent. The property was purchased for $1,610,000.
Step 6: Contracts were signed and exchanged in 10 days. The ecstatic Clients popped some Champagne and left a glowing review of their experience.
We decided that we wanted to sell our townhouse and use the equity we'd gained to buy something larger.

As first-time 'upgraders', working with Julio & Hamada gave us the confidence to sell and buy in an uncertain market. They listened to what we wanted, worked closely with us to provide options, and guided us through each step of the way with consistently sound advice.

Through their team and network of trusted partners, they were able to offer a holistic solution – from introducing us to an agent we could trust, to negotiating the purchase of our new property. While they connected us with the right specialist for our particular needs at each stage, we still felt as though we were working with an experienced, integrated team.

We would not hesitate to recommend Julio, Hamada and their team to any of our friends and colleagues looking for assistance with their selling or buying property.

Brett R. | Client
Benefit to the Broker
Increase in loan value from $600,000 to $1,290,000. Upfront commission of approx $8k, increase in trail, and 100% asset value increase.
Referral fee from BuyerX of $5,000.
The purchase was made within 10 days of exchanging contracts, bringing forward the value of a "pre-approval", appointing BuyerX speeds up the process.
A successful outcome and a great experience for the Client, resulting in word of mouth referrals.