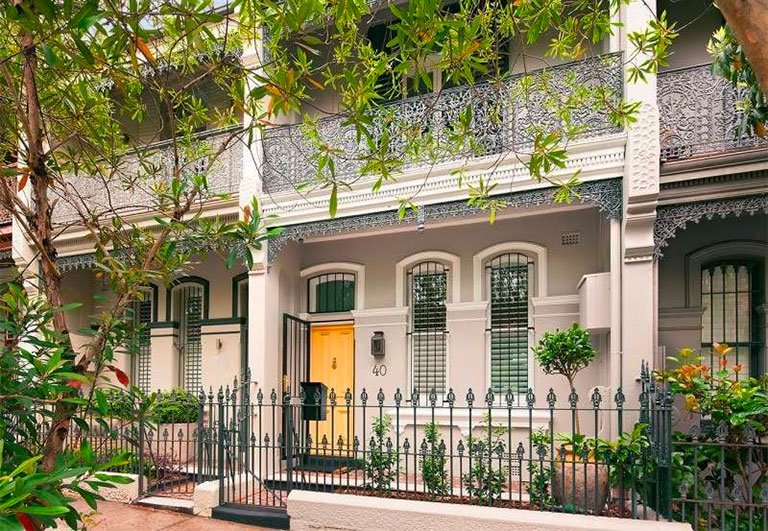 Oct 27, 2020
Design, Views & Aspect
Part 2/2 in the Paddington blog series, for Part 1 please click here
In our second half of this blog series, we look at the combination of factors that impact on sales price, including design, views/aspect, and Paddington's scarce car parking availability.
Firstly, let's look at land size and width of terrace houses: The smaller terraces congregate at the top of the Five Ways Zone near Oxford St towards St Vincents. These are typically well priced and convenient, but situated on land from 50-100m, with no parking, on small narrow streets.
The 3.3m wide 21 Little Comber St Paddington sold in September for $1.515m on 51m as a 2 bedroom and 1-bathroom home. 48 Paddington St, Paddington, midway between Woollahra /Five Ways was 3.75m in width and sold last month for $2.820m, on just over 100m of land, with a car park.
A 4-metre terrace sold in 70 Sutherland St a few streets below Paddington St in the same area for mid $3m but this had a view and high level fitout, with land of about 130sqm. A 5-metre terrace at the Woollahra end of Hargrave St has $4m price expectations on over 150sqm of land. 6-metre terraces in Glenmore Rd on over 200sqm of land typically sell for well over $5.5m.
The larger the frontage, the larger the land and the bigger footprint the terrace has, resulting in a more spacious and practical layout. Typically, Five Way terraces are 4-5m wide, with Woollahra terraces sometimes reaching 6m in width. Boundary St/St Vincents' zone terraces are typically below 4m, while the SCG terraces are at 4-5m,actually quite large, which is why prices have been creeping up and getting closer to 4m frontage in Five Ways.
As discussed above, land ranges from 50m to 250m, with the rare exception around 300m. Terraces over 200m command a premium which is of course offset by views, traffic and design as well as car parking.
Views and Aspect
A northerly aspect for a terrace adds considerable value when comparing opposite sides of a road and a similar-sized terrace. With no windows either side in most cases and the living area at the rear, a north facing rear will sell well.
Skylights and windows in the kitchen area are often added to increase brightness. Some of the more densely packed terraces on smaller blocks may have a northern rear but may be overshadowed by neighbours on the rear boundary.
Design Practicality
With space a premium, we are seeing more attics being converted to an additional bedroom, in some cases with steep stairs leading upstairs. Views and a bathroom and a high ceiling will further add to the value of a property. Ensuites are keenly sought out, as are bathrooms leading off the living area. With most terraces having 3 bedrooms upstairs and living areas downstairs, design features can make all the difference.
Car parking
Car Parking is at a premium in Paddington, but with no new units being built, the number of residents is not rapidly increasing, so the 'musical chairs' parking search each night seems to be fairly steady, with most cars finding a home. There are still some streets that shall remain nameless that have unlimited parking.
Having said that, most of my clients request a car park, which when completing a search will cut out more than half the properties. Amongst these may be the perfect sized land, large frontage, beautifully designed terrace being ignored by half the market, reducing the supply and demand and hence the price.
Some of the best properties in Paddington may only have one car park or none, but suit my buyers briefs so it's odd to sacrifice your perfect home so a car can be parked off the street. I acknowledge it's more than that, as the stress on a Saturday night coming home unaware of how long it will be until the car is parked is not insignificant!
Get the inside Paddington advantage with a Buyers Agent
And there it is, a wander through the multiple points that set the various zones prices and also within those zones themselves with sub-categories. It works as far as valuations are concerned – I don't know how as it is complex – but it just works, as I haven't recently seen a cheap property sale, with one unusual exception in Glenview St. Paddington is a micro-analysed, almost perfectly-priced (relatively speaking) market. Having said that, when it moves up , all the suburb's prices increase at the same rate.
One final comment , there is always a lot for sale in Paddington, due to the small land areas and tightly-packed terraces. With 3000 terraces in the suburb, it's no wonder there are 75 for sale on and off market at the moment. A Buyers Agent can not only find off- market properties, we can analyse large volumes of properties to save time and narrow the search down efficiently, as the better properties currently sell pre-auction.
We have heard many stories of Paddington buyers spending so much time trying to see everything on the market that by the time they made a decision, a property was sold… and their relentless weekend treasure hunt continued unabated for six or more months, by which time prices had risen and the preferred properties were out of range. Don't let this be your Paddington story!
Free Consultation
The first step in your property journey, whether it be buying or selling, is gaining clarity on your situation.
Book a Free
Consultation
Or fill out a form