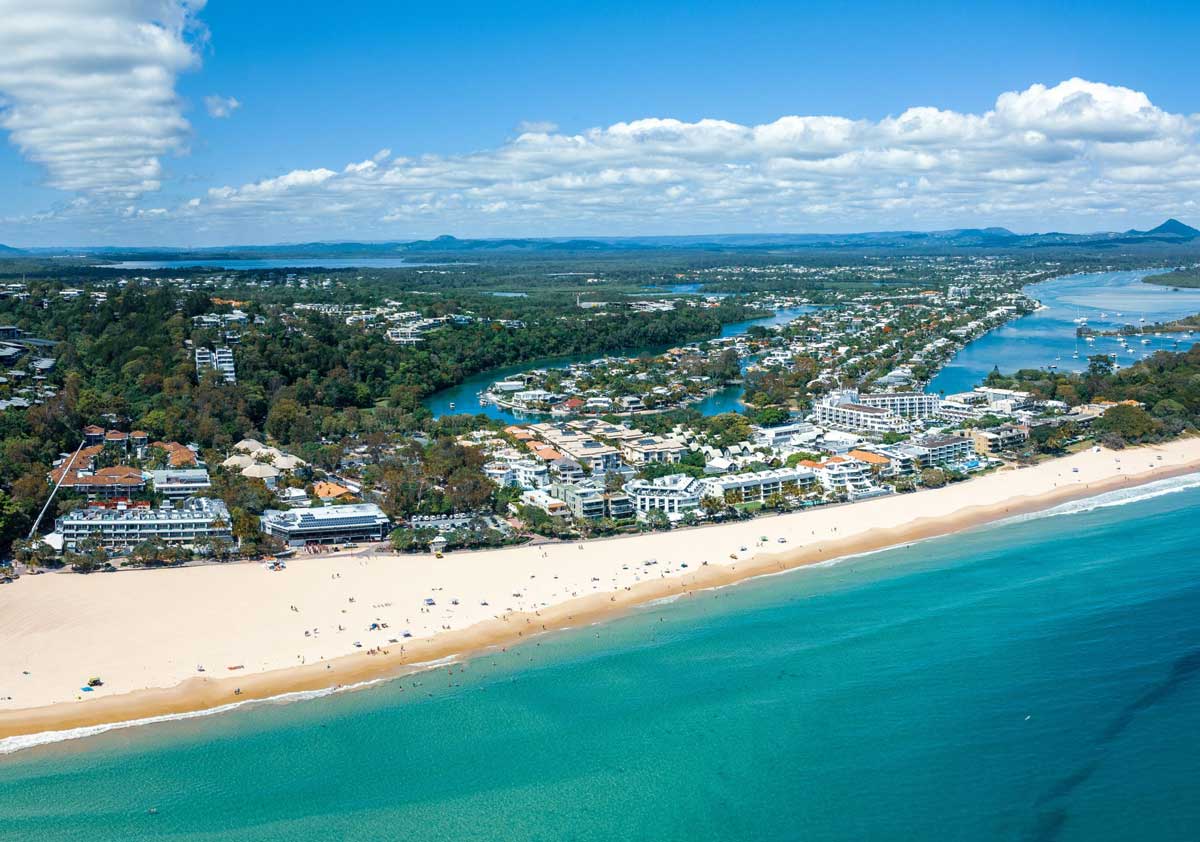 Oct 23, 2022
This quarter saw Noosa homeowners relinquishing some of their 'Pandemic Growth', as the financial landscape dramatically tightened family budgets and made the opportunistic selling of last year a distant memory. Covid conditions had generated unforseen off-market activity, resulting in less stock and high demand. Times have changed, and the lay of the land at the end of this quarter was more a realization by vendors that the market had shifted into a position where it was preferable to bunker down and hold onto stock. As Adrian Reed, founder and CEO of Reed & Co explains, "There is no doubt that we have entered a new operating rhythm within an environment of rolling interest rate rises, climbing inflation and greater uncertainty". However, the underlying drivers were in place to create market buoyancy, with an influx of positive migration from southern markets desiring our coastal lifestyle.
As is always the case, prestige properties and the waterfront market prevailed. "The one continuing trend was well- located, well-maintained, and well-presented properties that attracted more buyer interest and, provided they were priced fairly, sold in a shorter time frame at or near full asking price", shared Kate Cox from Reed & Co. Available stock sat at lower levels than the same time last year, and days on market for listings lengthened as it took longer to achieve sales with diminished buyer demand.
Noosaville

Noosa Heads

Sunshine Beach
Noosaville
Buyers market
The Noosaville and Noosa Waters property markets remained resilient this quarter, despite the Reserve Bank's continued onslaught of rising interest rates. The median house price for Noosaville sat at $1.85m after peaking at $2.1m, marginally up compared to the same period one year prior (0.4%).
The unit market tracked in a similar manner, coming down from peak levels set in March of 2022, retracting slightly but still showing growth from the same period 12 months earlier (+8.2%). The unprecedented sales of mid 2021 could not be sustained, and both houses and units steadily declined to settle into a pace more reflective of the longer 12-month trend.
Standout sales in Noosaville included a stunning four bedroom new build at 2 Jailee Court. Purchased in January 2016 for $495k as land only, sold at a price increase of 385% for $2.4m. A two bedroom apartment with ocean views, 2/213 Gympie Terrace previously sold two years earlier for $995k, and increased by 66% with the purchase price of $1.65m. A four bedroom contemporary designed home at 13 The Promontory in Noosa Waters garnered a great result, with a price increase of 220% over 8 years from $2m to $6.4m.
Noosa Heads
Buyers Market
Noosa Heads was not immune to the headwinds of change, as buyer sentiment dramatically shifted in October last year from one of FOMO to increasing caution as the year unfolded. The decline of median house values picked up the pace into the second quarter of this year, dropping from $2.47m to $2.29m by August as the frenetic energy of the past 18 months proved unsustainable. While this 7.3% decline appeared dramatic in comparison to last year's prices, it was still a massive run up from early 2020.
Days on market bottomed at the end of the first quarter, before inching back up again by June, a clear sign of increased buyer caution and discernment. The level of stock took a downturn from a near term peak of 10.5% in January to sit at 9.51% in August.
Median apartment values peaked at $1.73M at the end of April and ended August at $1.51M, a decline of 12.7%. Median days on market remained tight, which made sense when viewed in combination with just 5.27% of stock available for sale. As a rule, the upper end of the market generally hold their properties first when the heat comes out of the market. Therefore it was no surprise to see a retracement close to 13%. Add the reduced borrowing capacity of potential buyers, many have seen their capacity reduce 20%, then sellers were left with two choices; to either meet the market if they wished to transact, or elect not to sell.
A few sales highlights within Noosa Heads included a spacious luxury modern 3 bedroom apartment at 20/8 Serenity Close, purchased in June 2017 for $3.65m and sold this quarter at an increase of 56% for $5.7m. A traditionally designed house at 3 Currawong Street previously sold in March last year for $1.07m and rose 30% to sell for $1.38m. A compact two bedroom apartment at 2/28 Viewland Drive that was purchased in November 2016 for $475k, showed 96% growth with the current purchase price of $930k. The peak sale this quarter was a four bedroom three bathroom architectural paradise at 12 Noosa Parade. Achieving a sale price 371% higher than its previous purchase at $5.9m in January 2015, this A-grade property went under the hammer for $27m.
Sunshine Beach
Balanced Market
Summing up the sentiment in this region, Alexander Payne from Reed & Co said, "Sunshine Beach is tightly held and less likely to be adversely affected by owners needing to sell due to mortgage stress. With its Village, beached and proximity to the National Park, it will always be a desired location". In fact, Sunshine Beach now has the highest median property price in QLD. Highly sought after for its laid back lifestyle, top notch facilities, surf beach and close proximity to Noosa, it is renowned for its tenure longevity and the financial resilience of those who own in the area. The tourism boom following COVID, combined with the lack of available rental property, translated into units selling well as they became available.
Housing prices increased substantially during 2021, the median experiencing a nearly 50% boom from $2.3m in January 2021 to peak at $3.5m the same time this year. The average sale price dipped slightly in the first 6 months of 2022, and at the close of this quarter the median sat at $3.25m. Considering during 2021 FOMO prices elevated by at least 10% in most cases (aside from the National increases), Sunshine Beach remained very steady. Days on market however blew out to 92 at close of quarter as the region was not completely immune to the downturn, though a sign of strength in the region was the surety for those who own property in Sunshine Beach of a strong equity position given the significant increases to their property in the last two years.
Unit prices held a median value of $1.68m, a marked increase of 33% from $1.25m 12 months earlier. As prices rose consistently despite a small drop in June, units represented a sound investment proposition give the higher rental yield ratio, proving that buyers continue to see Sunshine Beach as a solid area to invest or owner occupy.
Notable sales in Sunshine Beach included a six bedroom incredible contemporary design, 3 Kiamba Court rose in price by 37% within two years, from $3.49m to $5.5m. A three bedroom unit at 1/12 Belmore Terrace yielded a 130% price increase from its previous sale in 2015 for $1.39m to $3.2m this quarter, and a two bedroom apartment was purchased in 2014 for $508k and resold this quarter at an increase of 158% for $1.31m.
Sunshine Coast – Looking ahead to the run into Christmas 2022
With this current economic turbulence, a holding pattern has formed as we wait to see how the market responds. As self-funded retirees are now able to access a better return in cash than what they have encountered for several years, many have chosen to pause and watch before re-engaging in property. This suggests that volumes will continue to be low. The trend of younger families moving to the region will flow into the coming quarter, however those in the lower and middle price sectors will likely have reduced borrowing capacity provided interest rates continue to rise. This will place downward pressure on prices, purely a function of what price they can pay and whether vendors are prepared to meet the market. And this is the critical factor. If interest rates keep increasing this could very well develop a scenario where people need to sell, although this is historically rare in Noosa.
The lack of stock, coupled with continued shortages of materials and trades in the building industry, have held up the price of established luxury homes and will continue to do so over the balance of the year.
Sunshine Coast Area Specialist
Kate & Edward Polk
Get in touch with Kate & Edward to find out more about the Sunshine Coast property market, or make an appointment to discuss your requirements and see how we can help you get into your ideal home sooner.
Read more about Kate & Edward Polk
Free Consultation
The first step in your property journey, whether it be buying or selling, is gaining clarity on your situation.
Book a Free
Consultation
Or fill out a form