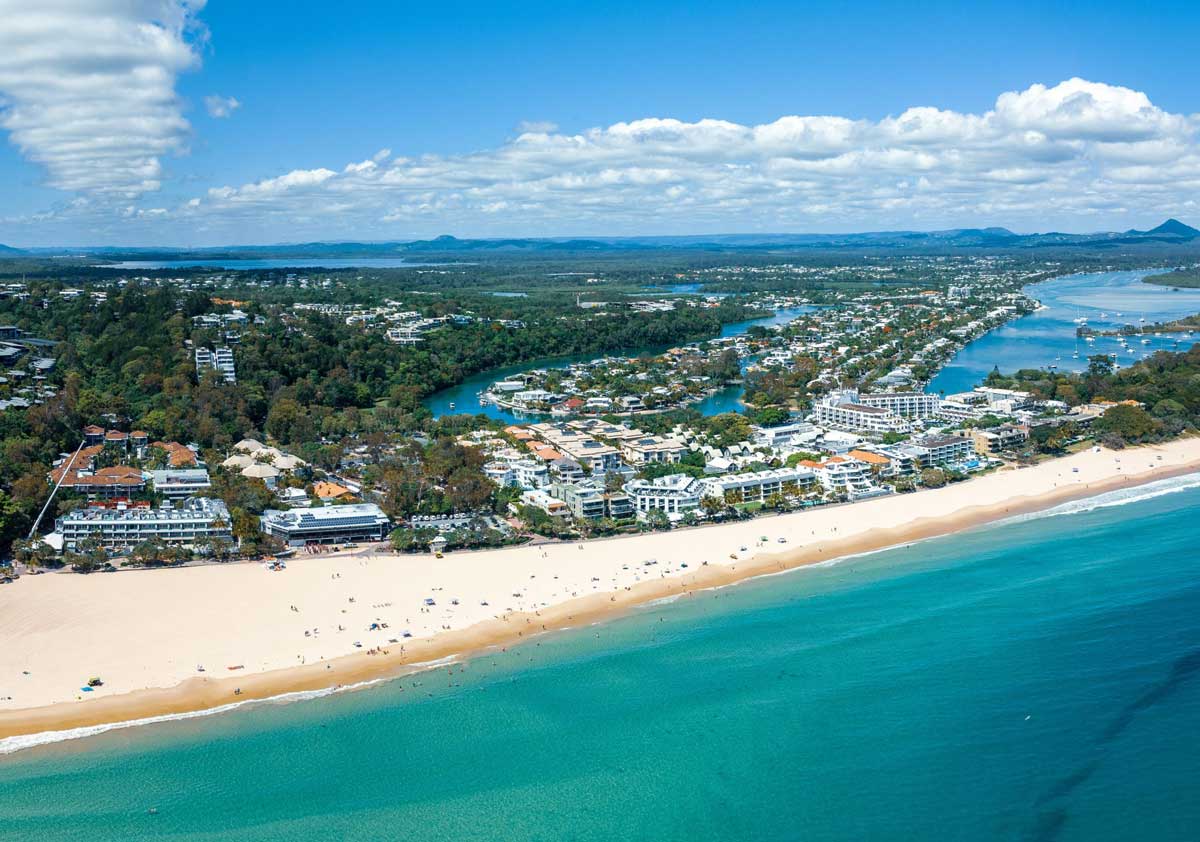 Feb 22, 2023
This summer the real estate market on the Sunshine Coast was one of continued relinquishment, a further stepping back from the pandemic growth through price adjustments and realignment of expectations. Although these changes have had a relatively minor impact in comparison to the strong price increases experienced over the last few years, our market was not immune to the effects of interest rate hikes and cost of living pressures. In the same way that tightening monetary policy has softened the market, so to has the pervasive uncertainty around when the rates cycle will peak.
The mood amongst buyers continued to swing the pendulum from one of FOMO, which saw many pay a premium in their eagerness to enter the market, to now having a strong alertness around not wanting to overpay. With one foot on the brake, the belief, or hope, was that better opportunities may begin to present themselves with time. Supply of properties remained tight, with many sellers opting to hold onto their stock and wait out the potentially short-term unstable conditions. Those looking to sell increasingly needed to adjust their expectations from the pandemic highs in order to successfully transact. These combined factors resulted in a fall in total sales volume and an increase in days on market in the December quarter vs both the September quarter and year on year.
Despite these market adjustments, uncompromised prestige and waterfront properties remained buoyant over the quarter. Lack of supply of these offerings ensured that when they became available they were guaranteed to sell well. Kate Cox from Reed and Co Estate Agents echoed this sentiment, "A shifting economic narrative saw several sectors experience a greater degree of buyer caution, however, the finite nature of 'A-Grade' properties has continued to be strong, disregarding the negative media stories." Buyers of these premium properties are increasingly aware that they need to jump on these opportunities when they present themselves. They may be waiting many months or years to find something similar, irrespective of the price they pay.
Noosaville

Noosa Heads

Sunshine Beach
Noosaville
Buyers market
The Noosaville and Noosa Waters property markets softened this quarter, with the median house price of $1.77m (12 months to 31 December) down 3% from September and 6.1% from the peak prices experienced in May 2022 ($1.8775m). The unit market tracked in a similar manner, with the median price of $923k (12 months to 31 December) down 3% from September ($935k).
Regardless of this softening, both house (2.6%) and unit median prices (17%) defied broader national trends and enjoyed growth in the last 12 months vs the previous 12 months.
Standout sales in Noosaville included a dated but liveable 5 bedroom, 3 bathroom riverfront home at 21 Dolphin Crescent. Bought in June 1996 for $616.5k, it changed hands for $12m, clearly a successful sale result with a massive 1846% gain. A spacious, light-filled renovated 2 bedroom, 2 bathroom, waterfront apartment at 8/4 Portside Court was purchased for $560k in February 2015, and sold with an 186% increase for $1.6m. While a modern, private 4 bedroom, 2 bathroom, home adjacent to bushland at 2 Jailee Court, last sold in January 2016 as vacant land for $495k. Completed in 2017, it sold for $2.4m, a 385% increase.
Noosa Heads
Buyers market
The Noosa Heads property market gave up ground, with the median house price of $2.05m (12 months to 31 December) down 6% from September peak levels ($2.18m). That said, the market enjoyed 13.9% median house price growth over the full year. Again, despite the recent softness, positive performance on an annual basis was displayed, particularly when viewed against the broader trends in the nation's capitals.
The unit market remained robust over the quarter, with the median price of $1.6625m (12 months to 31 December) up 4.9% from September ($935k) and 27.9% vs 31 December 2021 ($1.3m). The demand for quality 3 bedroom apartments, the nearest house substitute, and significantly cheaper, played a big part in supporting these numbers more broadly.
A peak sale within Noosa Heads this quarter was 47 Mossman Court, an absolute luxury riverfront 5 bed 4 bathroom home ideally positioned close to Hastings Street. Having previously changed hands in August 2020 for $10.91m, and $4.2m in November 2017, it sold to a Sydney buyer for $23.25m. This was the 3rd highest sales price achieved in QLD in the last 12 months. Another highlight sale was an understated and elegant 3 bedroom, 3 bathroom penthouse apartment at 20/8 Serenity Close. Spacious at 448m2, with extensive ocean and river views, and walking distance to Hastings Street and Noosa Junction. Last sold in June 2017 for $3.65m, it was purchased at a 56% increase for $5.7m. Lastly, held since 1993, a 2 bedroom 1 bathroom north facing unit at 53/6 Quamby Place with uninterrupted 180 degree views toward Noosaville foreshore and Noosa Heads waterways sold for $2.46m.
Sunshine Beach
Buyers Market
In spite of the fact that Sunshine Beach is very tightly held, the median house price of $2.75m (12 months to 31 December) was down 16.7% from September ($3.3m) and 19.6% vs December 2021 ($3.4225m). It is important to give some wider context to these numbers, as there were just 36 recorded sales in 2022 compared to 68 in 2021, with total listing numbers over both periods being more comparable. This quarter sellers were reticent to discount to achieve a sale unless they absolutely needed to move on, which not many did. Rather, the preference was to sit tight and ride it out.
The unit market gave up ground over the quarter, with the median price of $1.4875m (12 months to December 31) down 7.0% from September ($1.6m). The market finished the year up by 8.2% vs December 2021 (median price of $1.375m).
Notable sales in Sunshine Beach included 18 Mcannally Drive, a 4 bedroom 3 bathroom house perched on an elevated ridgeline with expansive ocean views. Freshly renovated since it last sold in 2003, it achieved a sales price of $6.15m. A luxurious new 4 bedroom 4 bathroom home situated in close proximity to Sunshine Beach Village, 11 Depper Street, was last purchased in April 2021 for $2.1m. It sold with a 136% increase for $4.95m. The final highlight for this area was an ocean view 2 bedder 1 bathroom ground floor apartment at 7/1 Ross Crescent. Well located within close proximity to Sunshine Beach foreshore, it sold for $975k, a 32% increase from its September 2020 sale of $737k.
Sunshine Coast – Looking ahead to the first half of 2023
Investment markets prefer certainty. In many cases, uncertainty can do more damage than bad news in and of itself. The Sunshine Coast Property Market is no different. Whilst inflation continues to rise, ongoing uncertainty with regards to when rates may peak will prevail, continuing to impact the decision making, or lack thereof, of both buyers and sellers. This uncertainty further compounds the pain of the higher interest rates themselves.
Our crystal ball is as murky as the next 'expert' – you only have to look at the divergence in predictions amongst leading economists to know that picking the peak of the rate cycle is anyone's guess. That said, it is widely agreed that we are closer to the summit, and increased certainty is likely on the horizon. When more certainty presents itself, we can expect increased activity, and prices to rise.
Until then, we expect sentiment to remain somewhat muted, as sellers who can afford to, will wait. While buyers will continue to tread carefully, particularly those with reduced funding capacity. That said, if interest rates keep rising, we could see a scenario where people need to sell, although this is historically rare in Noosa, particularly at the premium end. Furthermore, given current lead times and building costs, we expect quality turnkey property in good locations to defy any broader softening.
Outside of this short-term 'noise', the fundamentals underpinning the Sunshine Coast Property market remain very positive. To name just a few: constrained supply of new land, relative affordability vs. capital cities, accelerating migration from abroad, work from home flexibility, an extremely tight rental market, increased government infrastructure spend, and of course the unmatched Sunny Coast lifestyle. For this reason, as a buyer, when you find the right house in the right location, you should seriously consider taking action. Irrespective of what happens with pricing in the short term, given the scarcity of the market, if you wait, it will likely be a considerable period of time before you find something similar.
Sunshine Coast Area Specialist
Kate & Edward Polk
Get in touch with Kate & Edward to find out more about the Sunshine Coast property market, or make an appointment to discuss your requirements and see how we can help you get into your ideal home sooner.
Read more about Kate & Edward Polk
Free Consultation
The first step in your property journey, whether it be buying or selling, is gaining clarity on your situation.
Book a Free
Consultation
Or fill out a form