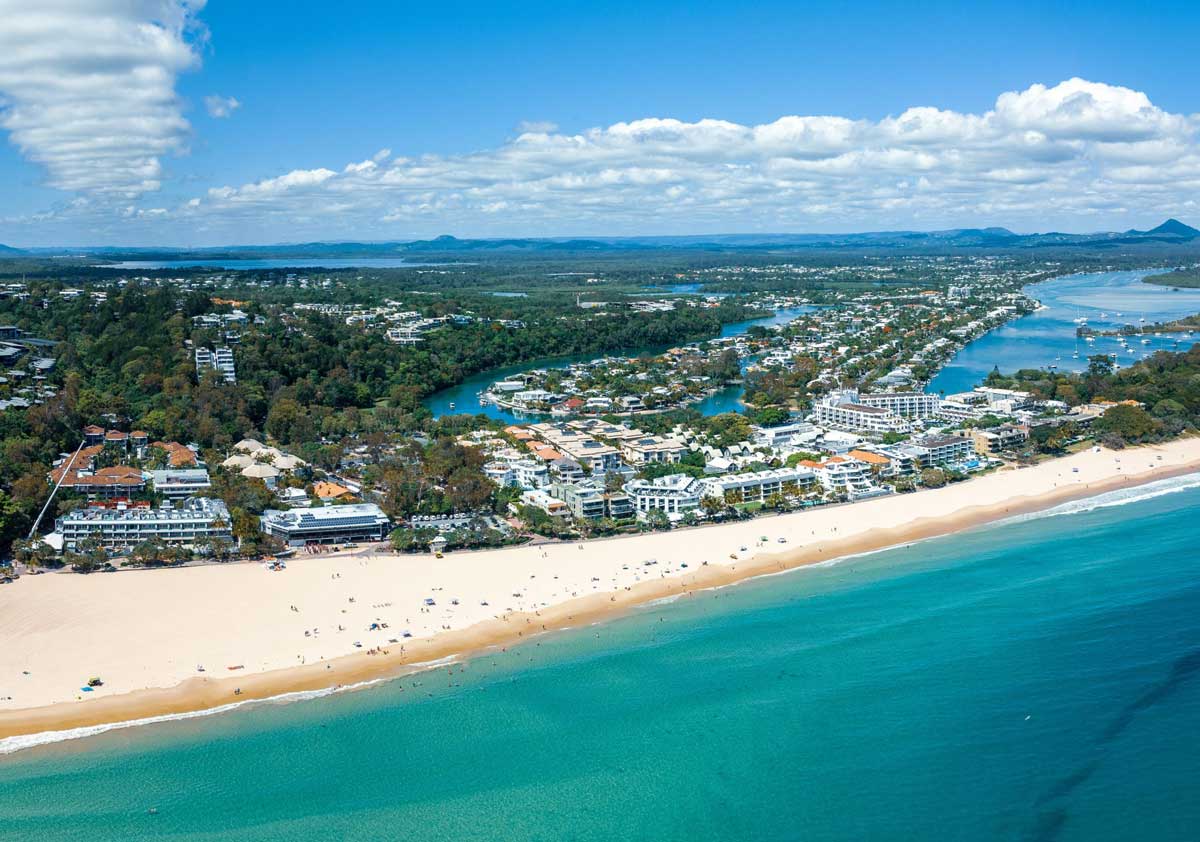 Apr 25, 2023
The Australian property market was a place of stark contrasts this first quarter. As the media-driven fear and uncertainty following the 9th and 10th consecutive interest rate hike reached pervasive levels, both buyers and sellers nationwide were forced to reassess their gameplans. Further compounding concerns, the relentless rise in the cost of living combined with the collapses in the US banking sector and the local construction sector, all deeply impacted market sentiment. While our Sydney counterparts reacted to these changing conditions with an unexpected resurgence of FOMO, this phenomenon was well and truly dead on the Sunshine Coast as a more considered approach was taken and the market continued to cool.
While there was still depth to the buyer pool, they were less compromising and held a strong alertness around not overpaying when entering the market. This meant that unless properties ticked the majority of boxes, buyers were preferring to hold out for better opportunities, comfortable that the market would not run away from them before then.
Stock levels remained limited as many sellers opted to hold onto stock and wait out the potentially short-term market softness. Sellers who refused to adjust expectations from the pandemic highs to suit the changing conditions were increasingly being punished as their properties failed to generate interest, let alone transact. Which translated into canceled auctions, auctions with zero bids and properties left sitting on the market competing with new supply.
These combined factors resulted in a marked fall in total sales volume and higher proportions of listings sitting on the market for extended periods of time over the March quarter vs both the December quarter and the corresponding period last year. In comparison to the strong price growth over the past few years, the relinquishment over this last quarter was relatively minor.
As has been the case throughout the recent period of market adjustment, uncompromised prestige and waterfront properties remained somewhat immune from wider softening. The finite nature and lack of supply of these offerings, coupled with a truly national and international buying audience, ensured that they sold well when they became available. Buyers of these premium properties were acutely aware that they needed to jump on these opportunities when they presented themselves, lest they be waiting many months or years to find something similar, irrespective of the price they were willing to pay.
Additionally, the market for 3-bedroom apartments was particularly strong this quarter. Seen by many as a more affordable option than a house, with the bonus of less maintenance, there was strong buyer demand and relatively low available supply. And particularly those council-approved for short-term holiday letting; seen by many as an attractive yield proposition in and around personal usage.
Noosaville

Noosa Heads

Sunshine Beach
Noosaville
Buyers market
The Noosaville housing market softened further this quarter, with the median house price of $1.7m (12 months to 31 March) down 4% from December 2022 and 9.5% from the peak prices experienced in May 2022 ($1.8775m).
There are markets within the market, as evidenced by continued demand for high-end properties over the quarter. As Dean McLure of McLure Prestige notes:
"Demand for high-end properties in Noosaville has remained strong, driven by the suburb's reputation as a sought-after luxury coastal destination. Buyers are attracted to the area's stunning riverfront views, world-class restaurants and bars and upscale lifestyle amenities. The market has seen interest from both buyers seeking luxury homes and investors looking for high-end rental properties with strong rental yields. The interest stretches far and wide from local and international buyers, including those looking for holiday homes, retirement residences, or investment properties in the luxury market segment. The supply of high-end properties in Noosaville has been relatively stable, with a limited inventory of premium waterfront properties available for sale. This has contributed to the sustained demand for luxury homes in the area."
The unit market proved resilient over the quarter, with the median price of $930k (12 months to 31 March) rising 0.76% from December 2022 ($923k). On the topic of resiliency, median prices remained just 0.53% off the peak, tracking sideways over the last couple of quarters whilst other markets declined.
Standout sales in Noosaville included a luxurious brand new 4 bedroom, 4 bathroom residence with pool, in close proximity to the Noosa River foreshore at 5 George Street. The rarity of the offering saw it sell for a strong price of $4.55m in the immediate hours following auction. A modern Chris Clout designed 3 bedroom, 2 bathroom duplex with pool, also situated just moments from the Noosa River foreshore at 1/12 Howard Street, realised a 95% gain from when it last sold for $1.495m in July 2016. Competitive multi-party bidding at auction saw the property sell for $2.915m. Highlighting the old adage that it's time in the market, not timing the market that yields the biggest gains, a low maintenance 2 bedroom, 2 bathroom waterfront unit at 2/67 Gibson Road which last sold 27 years ago for $195k sold at a 592% increase for $1.35m.
Noosa Heads
Buyers market
The Noosa Heads housing market gave up ground, with the median house price of $2m (12 months to 31 March) down 2.4% from December 2022, and currently sitting 8.3% down from peak levels ($2.18m in September 2022). Despite the recent softness, positive performance on an annual basis was displayed (up 3.8% y.o.y.), impressive when viewed against the broader trends in the nation's capitals.
The unit market continued to defy wider trends, showing no signs of slowing, with the median price of $1.885m (12 months to 31 March) reaching new peak levels and up a staggering 13.4% from December 2022 ($1.6625m). Quality 3 bedroom apartments were the key driver of this trend, significantly cheaper and the closest substitute to a house purchase.
Properties in Noosa Heads that were either priced correctly or were located in tightly held segments receiving a strong response from the market. As Jesse Stowers of Tom Offerman Real Estate shared:
"We're continually meeting wealthy buyers entering the market and a number of prime properties we are selling are attracting multiple bidders or getting snapped up prior to auction. We're also meeting hundreds of buyers sitting on the sidelines wondering when prices will drop so they too can pull the trigger. As we've seen in the past, the majority who sit on the sidelines are generally missing out or paying more down the track as the ever-growing demand for Noosa property continues to outweigh the finite supply which is tightening as more owners become hesitant of letting go. Often the value of these purchases are seen in hindsight once the next benchmarks are set and we've no doubt long-term there is no stopping the powerhouse market that is Noosa."
A highlight sale in Noosa Heads this quarter was the fibro cottage at 74 Upper Hastings Street, positioned at the top of the steps rising up to Little Cove from Hastings street. A premium development opportunity and owned by the seller for just over 50 years (bought for $13k in 1972!), seven bidders battled it out at auction in front of over 100 spectators before selling at $5.75m to an interstate buyer. Other notable sales included an architecturally designed top floor, 3 bedroom, 2 bathroom brand new luxury penthouse at 4/31 Bottlebrush Avenue on Noosa Hill. Open plan living transitioning to an oversized terrace overlooking the hinterland, and just a stone's throw to Noosa Junction and walking distance to Main Beach, this stunning property sold for $2.95m. An investment opportunity presented itself at 128/32 Hastings Street (located within the Sebel Resort complex currently undergoing a major make-over). This 2 bedroom, 2 bathroom apartment previously sold in April of 2006 for $875k, and again changed hands for $1.85m.
Sunshine Beach
Buyers market
The median house price of $2.575m (12 months to 31 March) was down 6.4% from December 2022 ($2.75m) and 24.8% from March 2022 ($3.4225m). Sobering numbers out of context, but the context is critical here. Sunshine Beach is very tightly held. Given low recorded sales volumes in this area, even median (as opposed to average) prices tend to be impacted by a small volume of outlier sales – anyone recall a certain mining magnate splashing $76m+ on 4 houses over 2021/2022? Yes, the market has softened, though in terms of quantum, taken in isolation, these headline median values can mislead (note: beware of sensationalist media articles!).
There were just 24 recorded sales in the last 12 months as compared with 62 in the 12 months prior to this, with total listing numbers over both periods more comparable. Sellers remained reticent to discount to achieve a sale unless they absolutely needed to (not many did), rather, the preference was to continue to sit tight and ride it out.
Those who own in the area are still very well positioned given the rapid price rises over the last few years, and strong long-term fundamentals underpinning the area moving forward. As Alexander Payne of Reed & Co. Estate Agents attests:
"With the change of government, followed by consistent interest rates rises, we have naturally seen increased buyer caution in line with the changing economic environment. Properties are selling, but days on market has extended from the heady days of 2021. We are effectively back in a more 'normalised' market. That said, Sunshine Beach has remained strong and is tightly held. The laid-back Village, fabulous restaurants, the amazing surf beach and our proximity to Noosa Junction, Hastings St and the National Park make it a highly sought-after location. With its offerings, its owner tenure longevity, and the financial resilience of those who own in the area, Sunshine Beach has weathered the economic changes well. Yes, the market has had a downturn, but those who own a property in Sunshine Beach will still find they have an amazing equity position, given the significant increases to their property in the last few years."
The unit market gave up ground over the quarter, with the median price of $1.4125m (12 months to March 31) down 5.0% from December ($1.4875m). This market is now off 11.7% from its $1.6m peak in median price achieved mid/late last year.
Notable sales in Sunshine Beach included a 4 bedroom, 2 bathroom house with pool and ocean views at 32 Belmore Terrace – a short walk to the beach or village. Previously selling for $1.7m in February 2011, the property, a rare offering in this tightly held precinct, was snapped up prior to auction for $4.9m. A 531m2 elevated vacant block with water views and positioned across the road from North Sunshine Beach at 47 Seaview Terrace sold for $3.55m. This was a 92% gain from its last sale in February 2019 for $1.85m, at which time the now vacant block was home to a comfortable 3 bedroom, 2 bathroom beach house. A 2 bedroom, 2 bathroom apartment at 1/1 Belmore Terrace in the Costa Nova Resort sold for $1.875m. With ocean views, situated directly across the road from the beach and literally around the corner from the village, the sale achieved a 131% gain in under 5 years having last sold in March 2018 for $810k.
Sunshine Coast – Looking ahead to the halfway mark of 2023
"Are the darkest days behind us?" – a perfectly reasonable question we get asked all the time. Albeit relative to other markets, literally or figuratively speaking, to date it hasn't got particularly dark on the Sunshine Coast. Whilst the market has softened, it has proven quite resilient in the face of wider economic uncertainty. Perhaps "are the dimmest days behind us?" is a more appropriate question.
As we have said before, economic uncertainty can do more damage than bad news in and of itself. There remains much divergence in forecasts amongst leading economists and conflicting opinions and reports in the media. For as long as there is uncertainty around inflation, interest rates, and associated impacts on economic growth, Sunshine Coast buyers and sellers will lack confidence and tread with caution. When more surety presents itself, we can expect increased activity and prices to rise. With more economic data to guide policy-maker decision-making, so too should come more certainty. It's ours, and everyone else's, hope that more certainty is around the corner.
Until then, sentiment will remain muted, as sellers who can afford to, will wait. Buyers will continue to tread carefully, particularly those with reduced funding capacity. Even if rates continue to rise, given the local demographics, we struggle to see a scenario where significant numbers of owners will need to sell, particularly at the premium end. Furthermore, given current lead times and building costs, we expect quality turnkey property in good locations to continue to defy any broader softening. Additionally, 3-bedroom apartments, for many a better value play than a house, will continue to be in high demand. Against a backdrop of constrained supply, we see this segment continuing to perform very strongly.
"Are the dimmest days behind us?" It's still too early to call. Irrespective, we continue to stress the point that outside of the short-term 'noise', the fundamentals underpinning the Sunshine Coast Property market remain overwhelmingly positive. Constrained supply of new land, relative affordability vs. capital cities, accelerating migration from abroad, work-from-home flexibility, an extremely tight rental market, increased government and private infrastructure spend in the lead up to the Olympics, and of course the unmatched lifestyle. As a buyer, when you find the right house in the right location, our advice remains to absolutely take action. Regardless of what happens with pricing in the short term, given the scarcity of the market, if you wait, it will likely be a considerable period of time before you find something similar.
Sunshine Coast Area Specialist
Kate & Edward Polk
Get in touch with Kate & Edward to find out more about the Sunshine Coast property market, or make an appointment to discuss your requirements and see how we can help you get into your ideal home sooner.
Read more about Kate & Edward Polk
Free Consultation
The first step in your property journey, whether it be buying or selling, is gaining clarity on your situation.
Book a Free
Consultation
Or fill out a form