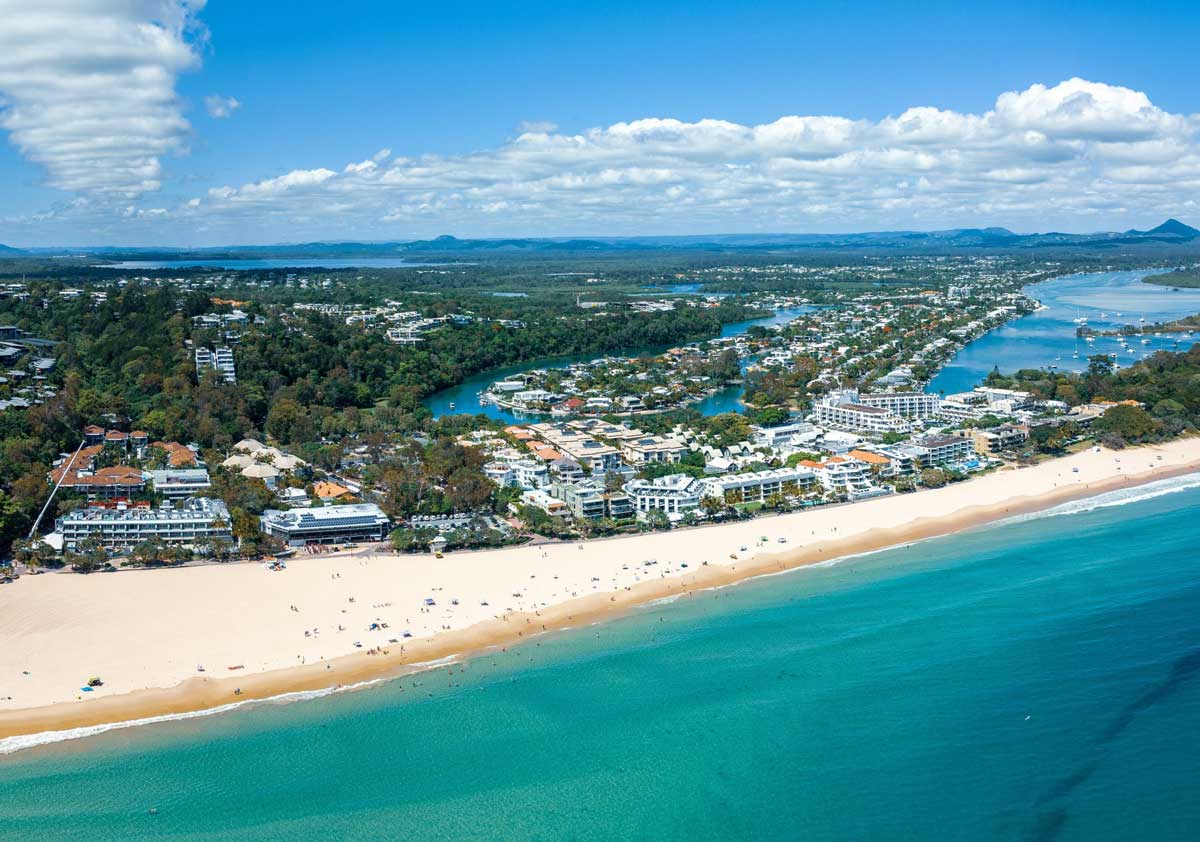 Aug 25, 2023
The Sunshine Coast has long been celebrated for its breathtaking natural beauty, idyllic beaches, and a lifestyle that epitomizes the essence of coastal living. Against a backdrop of shifting economic conditions resulting from interest rates, inflation and cost of living pressures, the market continued to transition towards more 'normalized' activity than we have seen in recent times.
As sellers waited for conditions to stabilize before entering the market, stock levels and sales activity (particularly at the top end) contracted. Buyers remained uncompromising, waiting it out for better opportunities, or taking their time in negotiations, as evidenced by extended days on market (>75% of properties remaining on market for 30 days +, many in the 90-180 day range). Adaptation was the key this quarter, and sellers that refused to adjust expectations to suit the changing conditions continued to be punished with cancelled auctions, zero bids, or properties left on the shelf to compete with new supply. The demand for uncompromised prestige and waterfront lifestyle properties continued unabated despite the noticeable lack of stock. Those sellers that did choose to take the plunge generally sold positively as a result. Additionally, the market for units proved particularly resilient over the quarter.
Noosaville

Noosa Heads

Sunshine Beach
The Noosaville housing market softened further this quarter, with the median house price of $1.575m (12 months to 30 June) down 5.5% from March 2023 and 16.1% from the peak prices experienced in May 2022 ($1.8775m).
Post pandemic, as the market continued to level out to a 'new normal', there were fewer sales than the same period last year. That said, locals (as opposed to more discretionary holiday makers) will always have a need to transact irrespective of market cycles as a function of their evolving personal and family circumstances. Monique Sommer of Reed & Co. states:
"The last three months of the financial year saw the start of more activity as locals continued to re-engage with the market and upsize, downsize and divest."
The unit market proved resilient over the quarter, with the median price of $940k (12 months to 30 June) remaining flat from March 2023 ($940k). Median prices hovered just 0.53% off their peak, tracking sideways over the last couple of quarters whilst other markets declined.
Standout sales in Noosaville included a luxurious 5 bedroom, 6.5 bathroom house split over 3 levels, complimented by glass lift, garaging for 4 cars, a pool and just 100m to the Noosa River precinct. Built to a scale that can never be achieved again under the current town plan, the property at 19 Edward Street sold under the hammer at auction for $6.2m. With a chic coastal aesthetic, and water views from across the road (which can't be built out due to protected parkland on the water), a 4 bedroom, 2 bathroom house with pool at 40 Shorehaven Drive sold quietly and under the radar for $3.2m, achieving a record price for non-waterfront property in Noosa Waters. Highlighting the old adage that it's time in the market, not timing the market that yields the biggest gains, a top floor 3 bedroom, 2 bathroom unit with 180 degree river views sold at auction for $2.9m. Situated in the Noosa Moorings complex at 7/303 Gympie Terrace, the property achieved a 1084% gain since its last sale in April 1990 for $245k.
The Noosa Heads housing market gave up ground, with the median house price of $1.95m (12 months to 30 June) down 2.5% from March 2023, to sit 10.6% below peak levels ($2.18m in September 2022).
The unit market continued to defy wider trends, with the median price of $1.885m (12 months to 30 June) eking out new peak levels. A minor rise from March 2023 (0.2%), though a significant 37% increase from June 2022 ($1.38m). Unlike previous quarters, it was 2 bedroom as opposed to 3 bedroom apartments that were the key driver of this trend.
The last few months saw a comparative lack of prestige stock and seller reluctance to test the market, with Adrian Reed, Founder & Director at Reed & Co. noting:
"There were plenty of buyers waiting to pounce in the prestige sector, and these buyers were typically largely immune to the higher interest rate environment"
A highlight sale in Noosa Heads this quarter was a north facing 3 bedroom, 2 bathroom apartment with pool, lift and private rooftop deck with views over Laguna bay at 2/29 Alambi Rise in tightly held Little Cove. A stone's throw from Little Cove beach, and held since 2013, the property sold prior to auction for $7.6m. Other notable sales included a luxurious Paul Clout designed 4 bedroom, 4 bathroom house (with heated magnesium pool and spa) at 21 Springs Crescent. Privately tucked away on the golf course in Noosa Springs, the property sold for $4.7m. Extremely competitive bidding saw 7 Honey Myrtle Road, a 4 bed, 2 bathroom offering within the Elysium Estate sell at auction beyond even the most bullish of expectations for a staggering $3.5m. This represented a 266% price increase from when the property last transacted at $957.5k less than 6 years ago.
The median house price of $2.44m (12 months to 30 June) was down 2.4% from March 2023 ($2.5m) and 30.3% from June 2022 ($3.50m). We've mentioned this before and it still holds true: context is critical. Sunshine Beach is very tightly held. Given low recorded sales volumes in this area, even median (as opposed to average) prices tended to be impacted by a small volume of outlier sales – there simply wasn't the level of trophy home sales of recent times to support where the median lay. The market did soften, though in terms of quantum, headline median values can be misleading (and provide great click-bait for sensationalist media articles).
As at June 30, 2023, there were just 34 recorded sales in the last 12 months as compared with 54 in the 12 months prior to this (a 37% reduction). Sellers remained reticent to discount to achieve a sale unless they absolutely needed to (not many did), preferring to continue to sit tight and ride it out.
Mike Hay, Principal at Century 21 shared:
"In my 20 plus years of selling in Sunshine beach, I have always dealt with a lack of available options and this quarter there was a big under supply of quality properties for buyers. This naturally contributed to a lower volume of sales and affected the median price, although median prices in Sunshine Beach are difficult to use as a guide as prices vary so greatly from Street to Street. For example, beachfront sales can have a huge impact on the median price but do not necessarily reflect the state of the market overall. The large volume of sales that occurred in 2021 and into 2022 was certainly in part due to the sellers taking advantage of a somewhat frenzied market. In the current climate which is more of a "normal" market, sellers need a good reason to sell otherwise they won't. This will continue to keep the market very tight which is a good thing as prices will hold."
The unit market held ground over the quarter, with the median price of $1.50m (12 months to June 30) up 0.8% from March ($1.4875m). This market is now off 6.5% from its $1.605m peak in median price achieved mid/late last year.
Notable sales in Sunshine Beach included 37 McAnally Drive – a 3 bedroom, 2 bathroom house with pool perched high up on the hill at the northern end of Sunshine Beach. With sweeping uninterrupted ocean views, the house sold for $5.65m, representing a 2,304% gain from when it last sold for $235k just shy of 32 years ago. Last purchased for $1.7m in December 2020, a since renovated 5 bedroom, 3 bathroom Queenslander just a short stroll from the village and beach at 6 Elanda Street, sold for $4.25m. Enjoying ocean views and on the doorstep of the village and surf lifesaving club, a fully renovated 3 bedroom, 2 bathroom penthouse apartment at 9/28 Duke Street sold for $2.4m.
Sunshine Coast – Looking ahead to spring 2023
Whilst the market has cooled, it has also proven quite resilient in the face of wider economic uncertainty, and with the recent pausing by the RBA, improved conditions are hopefully on their way. Until sentiment shifts, sellers who can afford to, will continue to wait. Against the backdrop of low stock levels, we expect some sellers to attempt to use the situation to their advantage by beating the traditional spring/summer selling season and going to market early. Buyers will continue to tread carefully, particularly if they are impacted by reduced funding capacity. Those in a position to act without conditions will hold a strong bargaining position against competitors who need to sell before being ready to buy. New opportunities will start presenting themselves, and a calm considered approach will garner results and avoid competing for less desirable properties. As has been the case all year, quality turnkey properties in good locations should defy any broader softening caused by the current building lead times and costs.
With Covid no longer dictating our existence, the demographic of visitors through this winter season was distinctly different than in recent years. Cashed up buyers headed to Europe as opposed to holidaying locally, their estimated return by the September school holidays should translate to a renewed growth in demand. We stand by the belief that outside of the short-term 'noise', the fundamentals underpinning the Sunshine Coast property market are overwhelmingly positive. Constrained supply of new land, relative affordability vs. capital cities, accelerating migration from abroad, work from home flexibility, a relatively tight rental market, increased government and private infrastructure spend in the lead up to the Olympics, and of course the unmatched lifestyle. As a buyer, when you find the right house in the right location, our loud and clear advice is to take action. Regardless of what happens with pricing in the short term, given the scarcity of the market, if you wait, it will likely be a considerable period of time before you find something similar.
Sunshine Coast Area Specialist
Kate & Edward Polk
Get in touch with Kate & Edward to find out more about the Sunshine Coast property market, or make an appointment to discuss your requirements and see how we can help you get into your ideal home sooner.
Read more about Kate & Edward Polk
Free Consultation
The first step in your property journey, whether it be buying or selling, is gaining clarity on your situation.
Book a Free
Consultation
Or fill out a form