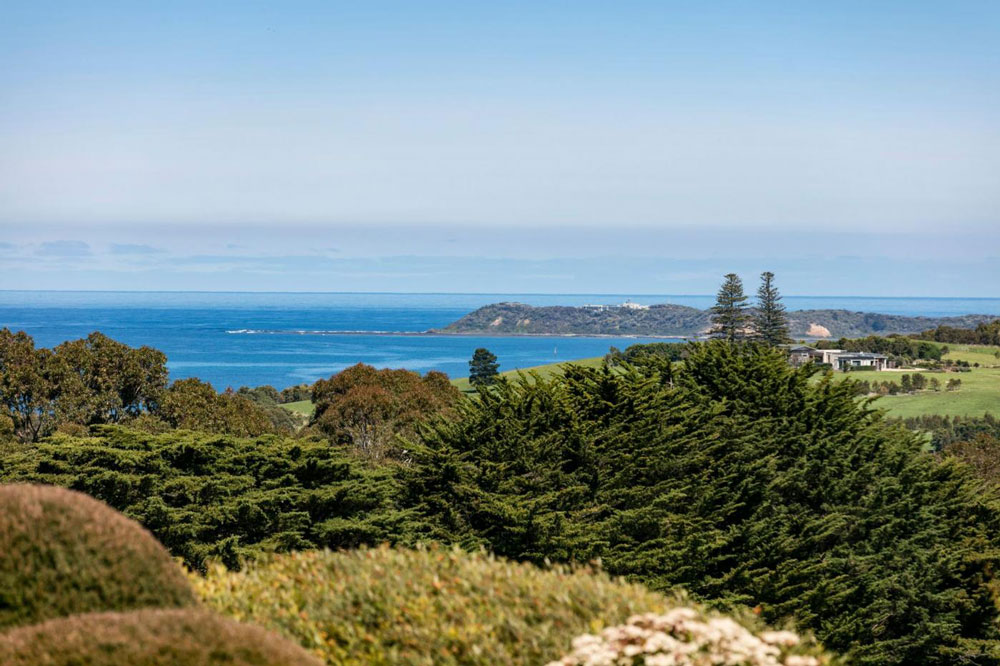 Sep 01, 2020
It has been an incredible rollercoaster of a year so far, with twist and turns that nobody saw coming. Despite the sad reality that there have been COVID-19 fatalities, business closures, job losses and stay-at-home orders, there has also been a strong and renewed sense of community spirit and care for each other that possibly was lacking in the past.
As predicted, the Stage 4 restrictions paused market activity just as Victorians had learned to buy and sell real estate safely and effectively in the new COVID-19 environment. As we came out of the first round of tightened restrictions, what we saw on the ground across the Mornington Peninsula was a pent-up demand for property and a shortage of quality listings. This was felt equally across metropolitan Melbourne and depicted in the REA Insights Weekly Demand Index – Buyers' report below.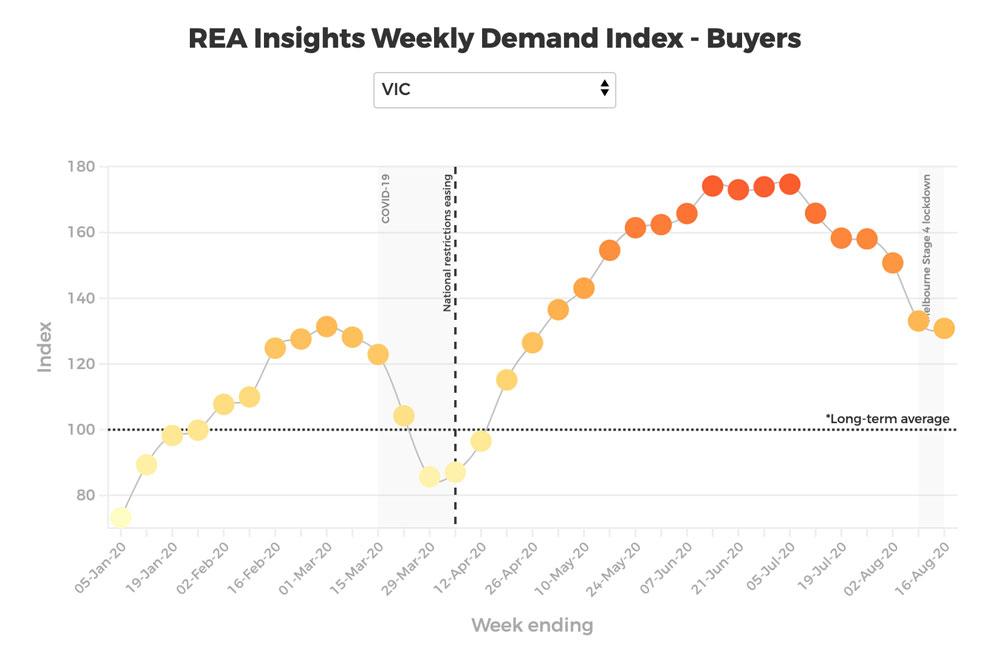 The threat of further restrictions and fear of price falls, coupled with some anxious vendors not wanting to commit to marketing campaigns, drove a large proportion of stock underground into what we call an off-market scenario. Strong agent relationships ensured that our clients were able to transact and take advantage of having representation when other buyers were left in the dark, a result of our experienced advocates understanding how to navigate difficult market conditions.
The large spike in demand from pent-up buyers in Melbourne looking to upgrade, relocate, or buy a holiday home on the Peninsula was the strongest I've ever experienced over a winter period. However, we still didn't get the volume of new listings to meet the increased buyer demand, which put upwards pressure on prices and kept many buyers waiting on the side-lines.
The advice we are giving clients today is to plan for another – and possibly even faster – bounce back to the market. Be ready to take advantage of opportunities as they arise, which may occur at the tail end of this Stage 4 period.
If you've got finances in order and are ready to act quickly, you'll be ahead of the curve when restrictions are eased, and the masses of buyers return to the market. Now is the perfect time to engage with BuyerX and plan a strategy for your next move, to avoid rushing into a decision under pressure when opportunities next arise.
Below is an overview of the major million-plus markets on the Peninsula, with apologies to Mornington, McCrae, St Andrews and Blairgowrie which are not featured below (please get in touch for my assessment of these markets if you are interested). I've also omitted August sales from these stats, as transaction activity has not been under normal conditions.
Northern Tip

Around the Hill

Southern End
Northern Tip
Balanced market
Mount Eliza
Jun – Dec 2019 (7 Months)
Number of sales: 206
Value of sales: $295,580,590
Median price: $1,197,500
Biggest sale: $7,045,000
Jan – Jul 2020 (7 Months)
Number of sales: 138
Value of sales: $190,085,009
Median price: $1,280,000
Biggest sale: $5,300,000
Mount Martha
Jun – Dec 2019 (7 Months)
Number of sales: 181
Value of sales: $228,361,134
Median price: $1,080,000
Biggest sale: $4,400,000
Jan – Jul 2020 (7 Months)
Number of sales: 165
Value of sales: $208,456,800
Median price: $1,176,500
Biggest sale: $5,000,000
I've separated Mount Eliza and Mount Martha, as they tell two different stories despite being quite similar in lifestyle and demography. Buyer demand doesn't seem to have waned in Mount Martha throughout 2020, despite the interruptions with Stage 3 restrictions.
In the last half of 2019, the market was starved of listings right up until year-end, when vendors all started to list their properties to cash in on any post-election price growth. It was as if they were waiting for a confirmation that the market had started moving upwards again.
This led to a slight over-supply in early 2020, presenting buyers with more choice. I would argue it briefly entered a buyers' market before COVID-19 took hold and listing numbers tapered off. Still though, the number of sales hardly changed from either side of Summer and the median price has continued to rise by 8-10%.
Sam Danckert from Danckert Real Estate tells me that "the market from January-August 2020 has lacked consistency due to the interruptions of COVID-19 activity restrictions, however it is showing an intermittent positive price trend. The nexus between limited supply of quality properties (attributed to vendors lacking confidence in the market) and increased buyer demand (due to the lifestyle appeal of Mt Martha) has resulted in some positive sales occurring.
In the case of 75 Glenisla Drive, the property was purchased in 2016 for $2.85m and was listed for sale for 59 days by our agency in March 2020 at $3.5m-$3.75m. The property attracted significant interest from Melbourne based buyers looking for a luxury residence or a holiday home, and was purchased by a family from Kew as a weekender within the quoted range."
There have been a number of other $3M+ sales in 2020 mid-pandemic, including a $5M sale of a property that had been on the market for the previous 6 months. This suggests to me that there is growing confidence from buyers and sellers alike, and the demand appears balanced as we head into a spring market.
Mount Eliza tells a slightly different story, with the market now seemingly easing somewhat off a stellar run between 2015 right up to the end of 2018, only tapering off with the fear of policy change brought by a new Federal government, which never transpired. The volume of listings in 2020 has slightly increased from the previous 6 months, but is still lower than the same time last year by around 20%. Conversely, the number of sales in 2020 has declined by 30%, which tells me that the market is currently showing better signs for buyers than sellers. A greater number of listings, and fewer number of sales.
It isn't by any means a concern for the market as the median price has still improved, but it gives buyers more choice and is still in my opinion a balanced market, just slightly tipping toward the buyer's favour. If listing numbers continue to grow out of line with buyer demand this spring, we will see Mount Eliza enter a buyers' market.
Around the Hill
Sellers' Market
Jun – Dec 2019 (7 Months)
Number of sales: 48
Value of sales: $113,706,000
Median price: $2,080,000
Biggest sale: $13,700,000 (Flinders)
Jan – Jul 2020 (7 Months)
Number of sales: 42
Value of sales: $56,026,000
Median price: $1,530,000
Biggest sale: $5,000,000 (Flinders)
The story "around the hill" is one of a lack of supply of good quality and top end properties in 2020. Typically, the season comes to life in spring and early summer for 6 months of the year along the Westernport side of the "hill" from Merricks to Flinders, remaining sleepy in the months either side.
Therefore, what we're comparing in sales volumes and medians could be skewed with seasonality, but I've gone back through the data and looked at year to year comparisons to confirm my opinion on the current anecdotal feeling in the market. The big properties aren't coming onto the market in the same volume as 2019, yet the buyers in 2020 are there in force, pouncing on anything with a decent position.
The A grade properties (with views) are being run to auction, selling above the range as we saw with 179 Point Leo Rd and recently 31 Oceanview Ave, both just shy of $4M. Other homes with small compromises are still being bought in a matter of weeks or days, as was the case with 339 Tucks Rd which sold in 2 days for the full asking price of $2.2M.
Even though the median price looks to have come off in the stats, I am not seeing this at all on the ground. In fact, I would go the other way and say prices have firmed again this year. According to Meg Pell from Kay & Burton, "in the 6 months prior to January the market in this area was healthy, and for the right property, it was and has always been strong. Stock is usually fairly tight. This year winter seemed irrelevant and we have seen huge growth in Melbourne buyers keen to make the move from the city right now, rather than in the future, for both permanent and part time living. As a result, stock has been even tighter, and prices achieved have been high. Even in Stage 4, enquiry on properties for sale remains strong.".
Despite the stats showing that sales volumes have hardly changed, you can see that the total value of properties sold is 50% lower, not because of price falls, but because the price-point of properties on offer are not the same this year as they were last year. If you own an acreage in these areas and are thinking of selling, you've probably never had such a strong demand for your product than right now. This is truly a sellers' market.
Southern End
Balanced market
Jun – Dec 2019 (7 Months)
Number of sales: 97
Value of sales: $198,029,500
Median price: $1,562,500
Biggest sale: $19,815,000 (Portsea)
Jan – Jul 2020 (7 Months)
Number of sales: 81
Value of sales: $150,290,668
Median price: $1,775,000
Biggest sale: $13,480,000 (Portsea)
Looking back, in 2013, '14, & '15 Sorrento and Portsea saw an enormous surge in listings, with peak periods having around 75 properties in Portsea and 130 in Sorrento on the market. The average days on market per listing was also quite high, with nearly 50% of the homes on the market for over 180 days. That volume declined by 50% in 2016 and again in 2017, when the market returned to normal with listing volumes remaining steady.
Since January 2020, particularly during Stage 3 and Stage 4 COVID-19 restrictions, and taking into account the area's seasonality, listing volumes have declined again by about 20% in Portsea, but interestingly, have remained more stable in Sorrento.
When I spoke with Samatha Moffatt of RT Edgar, she told me "after the market decline that effectively commenced around May 2018, the spring of 2019 started to look promising. We had some good results and found that the market was bouncing back. However, as spring turned to summer, there was an apparent breach in the supply and demand ratio, so the market slowed again for a short period. Then the pandemic hit and sent buyers and vendors packing, which was interestingly, only short-lived.
After a few weeks of silence during the first lockdown, buyers began to re-emerge. These buyers were cashed up, perhaps having removed their investment in shares at the earliest hints of the virus and were keen to look at property in regional and coastal areas such as the Mornington Peninsula. Vendors are slightly more inclined to offer their properties off-market in the short term because of the uncertainty of the virus, but the fact that there are well-qualified buyers out there means sales are being secured in a timely manner for very good prices.". As you can see the slight dip in the number of sales across the two suburbs has also fallen in line with the volume of stock on the market, which is a healthy signal, we aren't seeing sales and listings tracking on their own separate trends like in Mt Eliza currently. This is as much about seasonality as it is about a fundamental change in demand. What we are seeing, however, is prices holding steady or even slightly improved based on am improved demand from buyers seeking lifestyle properties in 2020. As we head into spring and summer, the listing volumes will return and so too will the buyers who are waiting patiently for their chance to purchase a holiday home. Overall, for the entire Mornington Peninsula market, the combination of low levels of supply and the significant stimulus of historically-low interest rates will ensure that demand for properties for sale remains strong through the remainder of 2020. We expect the market to be strong right up until Christmas and into the summer holiday period along the Peninsula. Inspections and property marketing have changed to adapt to temporary regulations which makes it harder for out-of-town buyers to locate, view and act quickly, which gives an upper hand to those with buyer representation and close relationships with the better agents. As observed by the well-respected selling agents quoted above, the common theme is an influx of city buyers looking to get away from Melbourne, either for weekends or more permanently. As working from home is becoming the new norm, family balance and lifestyles are at the top of household priorities and the sea-change/tree-change trend is one that I expect to continue for the foreseeable future. For those buyers who would like to understand how I operate and assist my clients to buy their piece of dirt, particularly in a post-COVID competitive market, pick up the phone or send me an email – I am only too happy to talk.
What can we expect on the Peninsula in 2021?
It certainly doesn't look like the market on the Mornington Peninsula is showing any signs of slowing down. It would have to take a serious economic shockwave to deter the amount of out-of-town buyers we're seeing. Prices have risen between 10 and 30 percent from Mt Eliza to Flinders to Sorrento and everything in between. It is extremely difficult to buy property at the moment, you need to be educated, decisive, have a strategy and move quickly. If you're up in Melbourne, the odds are against you unless you're able to drop everything at a moments notice and head down the freeway, for the next 6 months which is the average time to buy property down here.
The agents I'm speaking with all have listings ready to launch in mid-January. There will be a period like we saw as we came out of lockdown where stock was listed and snapped up in days. This is likely to happen again towards the end of January as holiday makers turn to sea-changers, and those that missed out in 2020 pick themselves up with renewed confidence and vigour. It will be strong all the way to Easter, and then after that, only time will tell. The COVID-19 vaccine will be making its way through the population of the world and international travel will soon be back on the cards. This may have a cooling effect on the market on the Peninsula, allowing transactions to return to a normal dynamic.
The past 3 out of 5 properties I've bought for clients have been off-market. In a rising market, this is almost impossible to do, but with relationships and local knowledge, it can be done. Contact me to see what I've got in the way of off-market listings in my database, there might be one that matches your search brief. Nonetheless, having a local expert on the ground, with a finger on the pulse of prices and knowing where to buy could be the difference between you being successful or missing out. Talk to me today and I'll give you an honest opinion of the likelihood of what you're trying to achieve. I may even be able to find and secure your dream home, just like I did in 2020 for my successful clients in the hottest market we've almost ever seen.
Mornington Peninsula Area Specialist
Michael Sier
Get in touch with Michael to find out more about the Mornington Peninsula property market, or make an appointment to discuss your requirements and see how we can help you get into your ideal home sooner.
Read more about Michael Sier
Free Consultation
The first step in your property journey, whether it be buying or selling, is gaining clarity on your situation.
Book a Free
Consultation
Or fill out a form