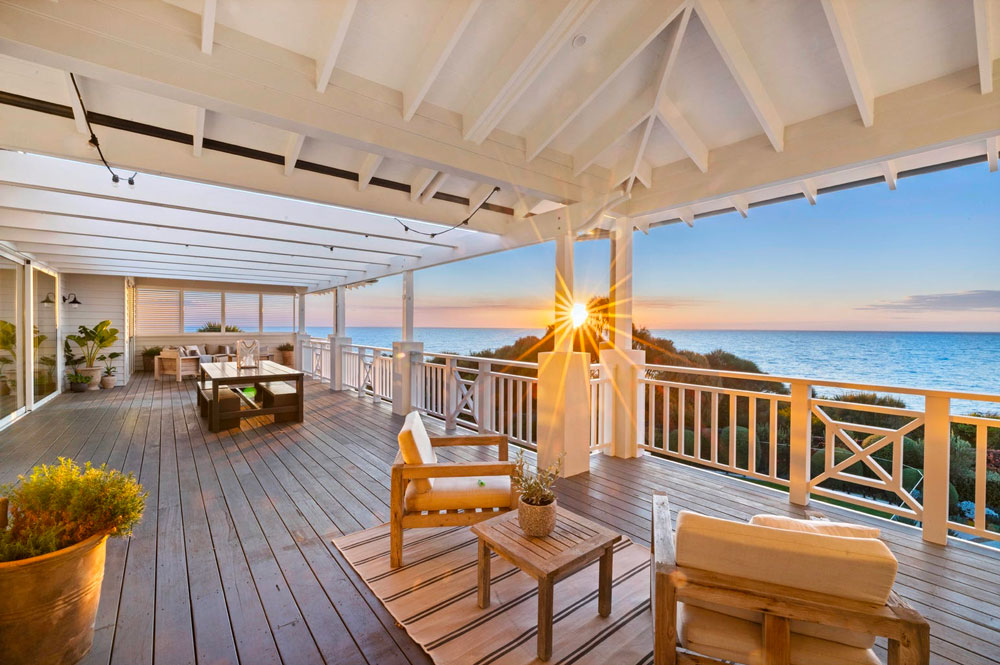 Jul 21, 2023
It feels like the story of the Little Engine That Could on the Mornington Peninsula. As we look back on the first half of the year, there were times when the market appeared to gain momentum, only to have the brakes firmly applied by the RBA (among other Victorian State Government disincentives), then for momentum to start to build again, all the while having the weight of an uphill battle continuing to impede any feeling of recovery. Yet, as with the story of the little engine, there is still an underlying belief that we're near the top of the hill – or in our case the bottom of the market, and we'll make it through.
According to research house PropTrack, stock levels as a whole across the Mornington Peninsula are 14.2% higher year-on-year from June 2022, however new listings are down 4.4% year-on-year, which tells me that sales volumes have decreased and the overall market is weaker now than the same time last year. Seasonality is already factored in, therefore you could argue that market sentiment and buyer demand have decreased due to land tax increases and continual rate rises, hence affordability and borrowing capacities have been impacted. The days on market band between 90-180days is contracting, indicating that vendors in this band are either adjusting prices to the market expectation or withdrawing their homes at this time period more so than previously, perhaps with the intention of re-launching again in the warmer months.
However, as I often say, the Peninsula is not a one-size-fits-all market, and there are still some markets operating under different dynamics than others. When looking year-on-year, you are only looking at one perspective, and a lot can change and change quickly in short time frames within that period. In fact, on the contrary, I am seeing some suburbs with a decreasing trend in stock levels, and a decreasing trend in days on market, whilst holding firm on median prices. This tells me that there are still active buyers when the price is right. It also tells me that sentiment may be on the improve, and if we are to believe that we are close to the peak of the rate cycle, "I think I can, I think I can…" we may now see some confidence return to the market just in time for spring. Properties are still transacting, and some property types and price points are doing better than others, namely the entry-level and very top-end price points, and/or properties that don't require a significant renovation or rebuild.
So let's take a look at each of the major markets on the Peninsula below.
Northern Tip

Around the Hill

Southern End
Mount Eliza
Buyers' market
APRIL – JUNE
# of Transactions: 60
Total: $114,024,500
Median: $1,650,000
Max: $6,000,000
12 Month rolling median house: $1,700,000
Days on Market: 58
In Mt Eliza last quarter I noted that the 10% quarter-on-quarter increase in stock levels across last year had appeared to have stabilised, however true to form it increased again in the last quarter now out to an average of 130 homes on the market. It certainly isn't panic stations, but the trend appears to be still on the way up for now despite a short hiatus. On a positive note, however, the days on market has reduced slightly from 64 down to 58, and the quarterly median house price has stabilised at $1.65M. The golden mile remained quiet again, with only a couple of sales in the period, as vendors continued to sit tight and await confirmation in market confidence. Some larger top-end offerings have started to surface both off-market and publicly, with anecdotal resurgence from buyers in this upper echelon according to top-end specialist agents Quentin McEwing of McEwing & Partners and Michelle Skoglund of Aqua Real Estate. The waterfront luxury Hamptons-inspired home (as pictured above) at 3 Tintagel Crt overlooking Davey's Bay with a price guide of $11-12M just one of a few on offer.
Mount Martha
Buyers' market
APRIL – JUNE
# of Transactions: 54
Total: $103,649,000
Median: $1,635,000
Max: $9,500,000
12 Month rolling median house: $1,680,000
Days on Market: 45
Last quarter I spoke about Mount Martha being on the edge of recovery, with a disclaimer that stock levels were holding the suburb back from announcing this as fact. There was an oversupply of 171 listings as we came out of the summer period, some 40% higher than the rolling 12-month average, however this past quarter the numbers have eased to 140 and heading in the right direction. The figure is still higher than the 2022 average, and the rolling 12-month median price is still tracking 10% lower than this time last year, however, the trend is what I am more focused on, and that is still heading in a positive direction. The days-on-market figure continues to shorten, and now sits at 45, and despite all the negativity in the media, that's a healthy figure. It hasn't been this low for 12 months – and we've had 10 interest rate rises since then. I mentioned in my preamble that there were suburbs in the past quarter with a decrease in overall stock volumes, a decrease in days on market, and a stabilised median price – and Mount Martha is one of those suburbs. We were treated with 2 top-end sales this quarter in Mount Martha, both by Alex Corradi of Danckert Real Estate. The off-market sale of 2 Greenslade Crt for $5.2M and the Kate Walker designed "Avalon" at 2-4 Irvine Ave in the Golden Triangle for a new reported suburb record of $9.5M, which surpassed the previous record held by Alex Corradi and Kate Walker herself with her own home "Biscayne" also in Mount Martha which sold for $7.6M in April 2022. I say reported, as there was a discreet sale in Alice St for circa $10M back in August 2021 however that was not reported in the data.
Mornington
Balanced market
APRIL – JUNE
# of Transactions: 89
Total: $108,958,500
Median: $1,170,000
Max: $3,000,000
12 Month rolling median house: $1,165,000
Days on Market: 39
It still feels very much like the beginning of a market recovery in Mornington with days on market continuing to decrease and now within what I consider to be a balanced market level of an average of 39 days for the quarter. 23 of the 89 recorded house/townhouse sales were within a two-week period. Stock levels remained consistent and slightly higher than the rolling 12-month average, however, the sales volume increased 20% over the previous quarter which indicates that vendors are largely meeting the market. The median price remains stable at $1.17M despite the lack of higher value sales. This quarter we saw the prominent agency Nicholas Lynch Real Estate close its doors and their team disburse to local rivals. Nicholas and his son Brodie have now joined forces under a new brand Lynch+Lynch. REA Top 100 Agent, Bailey White, has now joined his namesake Marshall White Real Estate in what looked like a logical next step for Bailey, and he was kind enough to provide his thoughts on the state of the market across the northern end of the Peninsula – "Whilst clearance rates are up from this time last year, I'm finding the Mornington Peninsula market is performing at two-speeds. Some properties are receiving strong interest and selling within 30 days under competition, while others are sitting for months. It's difficult to predict which homes will perform vs those that will take a bit longer. A recent sale of ours in Arthurs Seat sold for $400,000 above the advertised range! Within the three-week campaign, 153 buyers inspected the property and 19 formally registered interest. The level of interest for this sale was certainly unexpected. This reiterates the continued buyer demand for the Mornington Peninsula. On another note, we are seeing signs of mortgage stress, bringing more properties to market earlier than anticipated, particularly from investors. It will be an interesting second half to 2023 to really understand the full effects of the interest rates hikes."
Around the Hill
Red Hill, Shoreham, Main Ridge & Flinders
APRIL – JUNE
# of Transactions: 20
Total: $81,950,000
Median: $2,547,500
Max: $16,500,000
12 Month rolling median house: $2,886,250
Days on Market: 45
While the market was more subdued in the early part of 2023 around the hill, a handful of larger offerings hit the market and were snapped up in the second quarter. 7 of the 20 sales were above $4M, with the highest sale at 4305 Frankston-Flinders Rd, Shoreham by Andrew Hines of Kay & Burton for $16.5M. Another spattering (9 of the 20) of entry to mid-level township sales occurred across Red Hill, Flinders and Shoreham. The mid-top end of the market in Flinders had a few sales, with 230 Gwenmarlin Rd selling for $7.4M by Stephen Baster of Marshall White, 1721 Mornington-Flinders Rd by Rob Curtain of Sotheby's International Realty (Mid $9Ms) and 2353 Mornington-Flinders Rd by James Redfern of RT Edgar for $6.38M. However, it appears the following top-end Flinders homes have been withdrawn, perhaps we'll see them again at the end of the year: 88 King St, 101 Old CottonTree Rd, and 14 Bass St.
Portsea
Balanced market
APRIL – JUNE
# of Transactions: 4
Total: $21,262,500
Median: $4,750,000
Max: ~$10,000,000
12 Month rolling median house: $3,200,000
Days on Market: 23
A couple of bigger sales in Portsea this quarter, but generally still a sleepy period for the southern tip of the Peninsula. Notable sales include 77 Blair Ct selling in excess of $5.5M by Patrick Sinn of Sotheby's International Realty and the Alistair Knox architectural masterpiece on Pt Nepean Rd opposite Shelley Beach believed to have sold off-market by RT Edgar just under $10M. The volume of additional sales was low yet again, however the days on market still sits comfortably in a balanced market. We're not seeing much in a change of listing or sales volumes since the end of summer 2022. I asked RT Edgar's Clayton Smith for his view on the local market and he told me "Consecutive interest rate rises over the past 12 months has seen the cost of owning a property with a mortgage increase significantly along with substantially higher land tax on non principal place of residence properties. As a result of these increased costs, we have seen substantially more owners looking to rent their holiday homes out, either on a permanent or short term basis to cover these holding costs."
Sorrento
Buyers' market
APRIL – JUNE
# of Transactions: 20
Total: $48,617,500
Median: $2,300,000
Max: $6,800,000
12 Month rolling median house: $2,325,000
Days on Market: 47
The activity in Sorrento remained consistent in each of the first and second quarters of 2023. The volume of listings sat at an average of around 50, with roughly 20 home sales in each of the two quarters to the halfway mark of the year. The days on market figure shortened to 48 days down from 71 in the first quarter, however, 117 Hotham Rd and 5 Exeter Cl largely skewed that figure early on in the year with 337 and 242 days on market respectively. Therefore, despite the average days on market contracting in this second quarter, I don't believe there is any material change in buyer demand or urgency, and as such the median price was also unchanged. As Clayton Smith of RT Edgar tells me, "Perspective is key here in analysing the data, when we look at the growth in median prices for these suburbs over a 3 year period from June 2020 to May 2023, here is the growth the data reveals: Portsea + 56.9%, Sorrento + 59.7%, Blairgowrie + 55.9%. With buyer demand easing over recent months, this presents aspiring buyers a great opportunity to purchase outside of the frenetic multi – buyer demand we experienced in recent years in a more controlled environment. It certainly feels like vendor's price expectations in the main have reset to current market conditions and those who are pricing correctly are finding a buyer within 30-40 days". Clayton reported their agency transacted a $20M+ off-market clifftop sale in Sorrento, along with the large land holding at 31-35 Salonika St just under $7M. Lastly, it would be remiss of me not to mention that the rumours of Whitefox opening a Sorrento office were unfounded, and during the past quarter, their Peninsula venture seemingly came to an end as they closed their Red Hill office and staff disbursed.
Blairgowrie
Buyers' market
APRIL – JUNE
# of Transactions: 26
Total: $44,676,500
Median: $1,507,000
Max: $3,750,000
12 Month rolling median house: $1,687,500
Days on Market: 72
From the outside looking in, Blairgowrie on paper looks like it is going backwards with both the median price this quarter taking a hit and days on market blowing out to the early 70s. The true tale is quite different when you dig deeper into the data. There were 4 sales between 149 and 194 days on market, at price points of $1.2M to $4.5M and evenly spread in between. It doesn't reflect a weakening in demand at a particular price point, but perhaps a lack of urgency from buyers and an increased desire for thorough due diligence. As told by Josh Callaghan, "At Fletchers Mornington Peninsula, where we currently service the mid to premium sub-markets of Blairgowrie, Sorrento and Rye, the final quarter for FY23, for us saw the closure of some of the most significant properties in the area". The 2 larger sales in the case of the 4 sales mentioned above were 7 Pearse Rd for $3.56M and 11 Brooks Ave for $4.5M, both sold by Josh, selling at the top of vendor expectations and under competition despite the lengthy campaigns. The latter a price record for the precinct. Removing those 4 longer sales from the sample size, and we have a consistent days on market figure of 51 days for the whole 6 months of 2023. This is considerably less than the sub-30 day seller markets of recent years, however still fairly balanced – yet remaining slightly in the buyers' favour.
Looking ahead on the Peninsula in 2023
We've grown accustomed to a market with energy, urgency, competition and at times speculation. In reality, that type of market isn't sustainable, and what we're experiencing right now is actually far more normal. This was confirmed by Josh Callaghan when he told me "The evidence for us is that we are experiencing reasonably good buyer activity in all price ranges together with a conservative buyer mindset; which to be fair is to be expected and reasonable. With a lot of reference and emphasis placed back on the recent fast-paced COVID market it is important to understand that the market has now normalised. Buyers are coming back for a second and third inspection and being thorough and diligent in their buying approach, this naturally adds to a properties days on market and that is the reference for a normal market". If we take a step back and look at the fundamentals, the market really isn't in that bad of a shape. Interest rates are in a long-term average band, stock on market is still lower than the long-term average, days on market is only slightly higher than a balanced market, and macro-economic factors such as low unemployment and high international migration continue to add upwards pressure on prices as long as stock levels remain low. And while the market may be in a status quo currently, according to Clayton Smith "Appraisal activity is building currently and we are expecting a busy spring whilst people adjust their property portfolio to suit their financial and lifestyle goals. There are some great buying opportunities available right now, and we suggest you act now before the Spring buyer surge arrives."
As we know, inflation has proven tricky to control thus far although it's no longer out of control, and cost of living pressures coupled with rising land tax is turning away many would-be investors or holiday home buyers from the market. The narrative from the media has been doom and gloom for a long time yet our market continually defies the sensational housing market crash predictions from economists and so-called experts with their vested interests. Whilst the ever-growing risk of knee-jerk state government policy looms, and the overall market sentiment is still fairly negative, the data suggests that the window of good buying is here, and as we've seen in the past, that window may not be open long. There is a market that comes to life in these times of uncertainty, and savvy buyers who are finance-ready and opportunistic are the ones who pick up good deals in the off-market and pre-spring market space. Our business nationwide averages around 40% of our purchases via off-market deals for our clients. That's a significant number of homes that never made it onto the open market, and most buyers wouldn't have even known those had been sold. If you are currently in search mode and waiting for the right opportunity to surface in a low stock environment, you could be waiting a while and the improving market conditions may entice other buyers back in to compete against you when the time comes. And while Josh Callaghan may be on the other side of the fence to me in my profession, the adage he mentions rings true to us both, "From a seasoned real estate agent's perspective, what is clear is that this market is about 'real' real estate and certainly not for the faint-hearted…it is about understanding the dynamics, having an entrenched history in the local market cycles, being rational with a reasonable mindset and being prepared to work hard, long arduous hours".
Thanks for reading, please drop me an email or give me a call and let me know what you're looking for, as I do have quite an extensive list of available homes off-market and having a strong local presence and understanding of the market holds our clients in great stead to capitalise when others can't and don't.
Mornington Peninsula Area Specialist
Michael Sier
Get in touch with Michael to find out more about the Mornington Peninsula property market, or make an appointment to discuss your requirements and see how we can help you get into your ideal home sooner.
Read more about Michael Sier
Free Consultation
The first step in your property journey, whether it be buying or selling, is gaining clarity on your situation.
Book a Free
Consultation
Or fill out a form