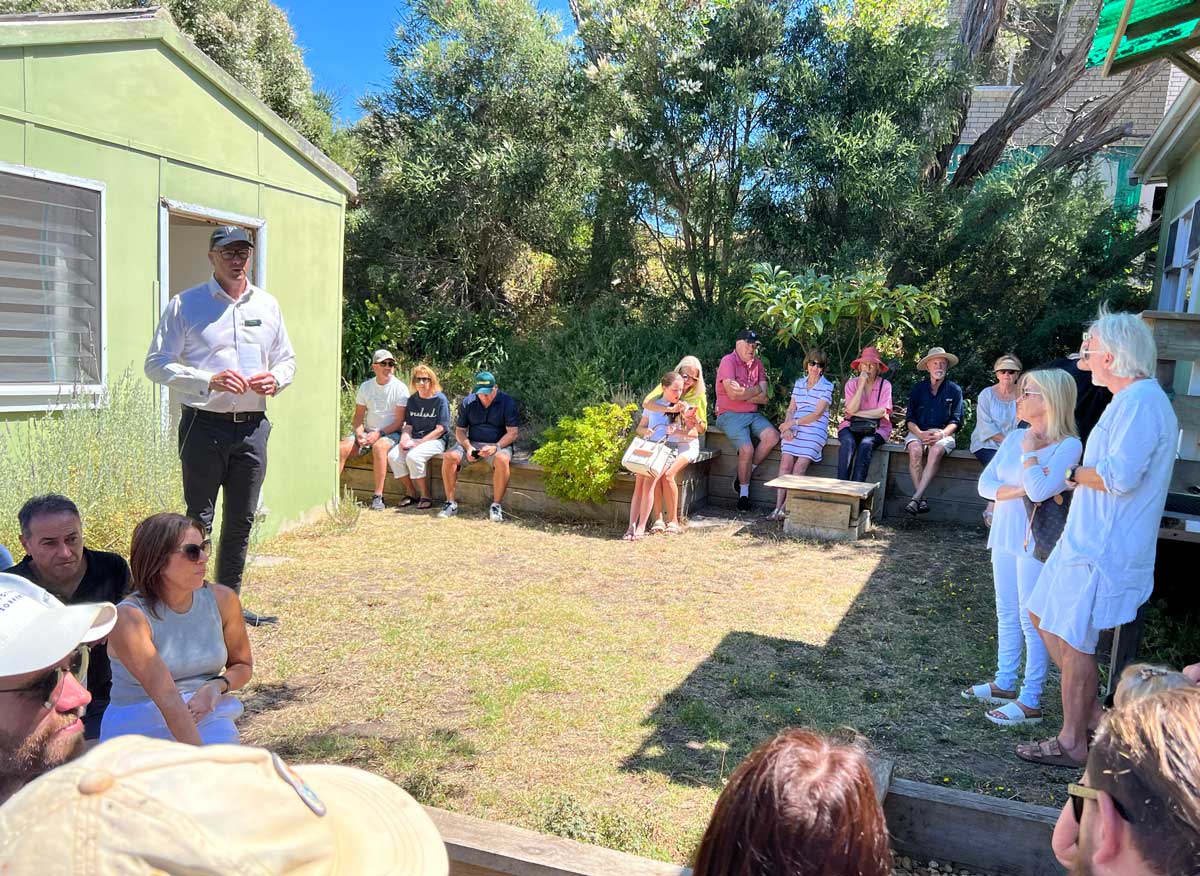 Feb 21, 2023
Mornington Peninsula's summer market was a somewhat subdued affair, with no real urgency from buyers nor many competitive auctions taking place. As buyers increasingly sourced turn-key properties, buyers began to shun renovators delights or knockdowns, and vacant blocks of land were in some cases selling for less than the prices they would have commanded 12 months ago, or not selling at all. An example of this was in January 2022 in Sorrento, where a knockdown home at 19 Ronald Avenue went for $2.2m under competitive auction conditions. A mere 10 months later, under very different market conditions, an identically sized property with a knockdown home sold for $1.9m. A $300,000 or 15% discount from one side of the road to the other within 10 months, an accurate indication of the level the market dropped for this type of buyer/property. A similar example in Blairgowrie, where two side-by-side knockdown properties on Derrick St, both land value, sold under the hammer on the same day in November 2021 for $1.48m and $1.485m each by Josh Callaghan of Fletchers Real Estate. Fast forward to exactly 12 months later, on the same weekend, where 24 Derrick Street sold for $1.38m by Danielle Anderson of Indigo Property Marketing. Bear in mind that this property at number 24 Derrick St had a more useable house than the previous two, so this $100,000 decrease falls in line with the developing market pattern.
Buyers are being more cautious, and we're seeing more and more auctions passing in and selling afterwards or changing to private sale the following week. Danielle Vains from Sotheby's International Realty added, "Typically most buyers were not in any rush to transact like in 2021. Decisions were calculated and only moved forward if the property met their family's needs and the price was justified. The most active buyer types are new buyers to the Mornington Peninsula. We also have a number of families looking to upgrade their current lifestyle properties".
Across the board, buyers wanting to build were simply not willing to pay a premium for land. This provided an opportunity for buyers to continue to find bargains with little competition in this sector, provided the rising building costs and current cost of debt were not a deciding factor.
There are of course always exceptions to the rule, being the rare property with wow factor, location, position or view. This quarter, these unique homes continued to attract multiple buyers willing to compete. A home at 13 Burrell Street, McCrae, sold for $300,000 above the top of the quoted price range, and another in McCrae, the home of comedian Nikki Osborne at 45 Arthurs Ave by Ian Ross of Danckert Real Estate sold for $2.2m after 48hrs of being online.
As is generally the case, sales above $5m follow a different rule book than their lower budget counterparts. There were definitely buyers who were unaffected by the tightening financial conditions and not tied to credit who were on the hunt for something scarce. In Portsea a property on Paringa Road sold for $6m, another on Blair Road for $8m. In Flinders, a 50 acre block of land went for $12m, while across the road a luxury farmhouse sold for $23m, both with superb water views over Phillip Island. The Flinders/Shoreham market continued making sales of $5m and above, remaining the strongest around the hill area.
The ASX kicked off to its best start in 30 years, indicative that money is now flowing, investor confidence is present, and companies are prospering. This is also being reflected in the crypto market, with Bitcoin, and some of the other larger coins, all experiencing 30-40% increases in January. After a rough 2022 this is a very encouraging sign, though it is yet to translate into changes in the property market.
Last year, the low stock volume coupled with the lower interest rates meant that there were enough buyers to keep the market median prices buoyant. However, the continued rising stock levels this year, particularly at the northern end, are sure to test how resilient price is moving forward. Once stock sits on the market for a prolonged length of time, such as the 80 properties in Mt Martha currently tipping over the 60-day mark, vendors eventually adjust price downwards to meet the market and the median price becomes vulnerable.
Northern Tip

Around the Hill

Southern End
Northern Tip
Buyers market
With its close proximity to Melbourne and easy access to jobs and facilities, the Northern Tip has a higher proportion of owner occupiers to holiday homes. Because of this largely residential population it follows more of a year long cycle, as opposed to the seasonal cycles of the more isolated holiday home suburbs down the southern end.
Mount Eliza
Buyers market
Oct – Dec
# of Transactions: 74
Total: $137,842,000
Median: $1,707,500
Max: $4,500,000
12 Month rolling median house: $1,750,000
Days on Market: 52
Mount Eliza's median price was up slightly on the previous quarter, an expected change with better quality listings always coming onto the market in the shift from spring to summer. Similar to Mount Martha though, the stock levels crept up by a steady 10% quarterly increment. Days on market hit its peak for the year at 52, reflective of the absence of buyer urgency.
Only two sales above $4m were achieved for the quarter, with 8 Glen Shian Lane selling for $4.5m by Michelle Skoglund of Aqua Real Estate, and 55 Old Mornington Road for $4.1m by Coco Ma & Lloyd Hillard of Area Specialist Real Estate. The Golden Mile experienced very little activity.
Mount Martha
Buyers market
Oct – Dec
# of Transactions: 55
Total: $117,650,750
Median: $1,760,000
Max: $6,500,000
12 Month rolling median house: $1,780,000
Days on Market: 50
While the median price in Mount Martha somewhat recovered from its mid-year dip, days on market remained unchanged from last quarter at 50, and numerous properties (80+) listed for greater than 60 days. Overhanging unsold properties increased as listings grew consistently at a 10% month-on-month rate, creating a concerning forward trajectory. While still not at 2011-2014 stock levels, agents may need to proactively begin adjusting listing prices to avoid this volume increasing further. There is some strength still at the top end of the market, although properties at this level are either selling off-market or taking longer than normal to sell when listed.
Trent Cameron from Warlimont & Nutt gave his overview of the market, "2022 saw the peak of the Mount Martha boom in February. From the election onwards combined with interest rate rises and increased measures in banking regulations, we found our local area return to a balanced market. In saying that, the Peninsula lifestyle continues to attract people to buy into our community". Warlimont & Nutt achieved luxury sale success this quarter courtesy of Trent Cameron, with 59 Glenisla Drive selling for $4.8m, and 15-21 Leggatt Crescent reaching $5.7m. Other notable sales were 1 Shearwater Drive by Sam Danckert of Danckert Real Estate for $6.5m, 68 Kilburn Grove by Amanda Haimona of Impact | Bonaccorde for $4.65m, and more recently 4 Trig Point by Alex Corradi of Danckert Real Estate for $5.175M to international DJ Carl Cox.
Mornington
Buyers market
Oct – Dec
# of Transactions: 74
Total: $99,923,250
Median: $1,126,000
Max: $5,025,000
12 Month rolling median house: $1,180,500
Days on Market: 46
Mornington is the Peninsula's "Mr Consistent", long-acting as the barometer for the Northern Tip/End. This quarter showed no clear signs of the market either rising or falling, sales volumes remained steady and, apart from the first quarter, the median price was unmoving at $1.1m-$1.2m. Average days on market were still fairly high in the mid 40's, and listings crept up slightly, both indicating a buyers market.
A notable sale for the area, 12-14 John Rowell Lane went for $5.025m through James Redfern of RT Edgar.
Around the Hill
Buyers market
Oct – Dec
# of Transactions: 26
Total: $31,146,000
Median: $3,225,000
Max: $23,382,990
12 Month rolling median house: $3,200,000
Days on Market: 37
Around the Hill continued to assert its autonomy by slightly bucking the trend of the rest of the Peninsula with a positive spring/early summer market. As a whole, it experienced three times the sales achieved throughout winter, seasonally expected as acreage markets tend to kick into gear at this time. Unlike its counterparts, Flinders and select parts of Shoreham attract buyers no matter the market or economy. Median price held firm, and average days on market were comparatively healthy in the early 30's. More stock than expected for this time of year, but there was still relative strength there for vendors to list with confidence.
Two very notable sales occurred in Flinders on Musk Creek Rd, one technically identified as Punty Lane but sharing Musk Creek Road frontage. Both sold by Sotheby's, the first garnered a $12m price tag. The second was hands down my favourite home of the year, a luxury farmhouse at 261 Musk Creek Rd, and attracted a purchase price in excess of $23m. A property at 9 Old Cottontree Rd sold by Kay & Burton, and 101 Meakins Rd by RT Edgar, both touched $5m.
Southern End
Buyers Market
While the Southern End picked up minimally coming out of winter, Sorrento still only achieved 23 sales this quarter. While the last six months of 2021 brought in 62 sales, the last 6 months of 2022 only had 36, a significant 50% drop on number of sales. The median price for this same period was 20% less. So the market was conclusively weaker with strong buying opportunities, particularly for those in the market for land offerings or renovator delights. Buyer activity was primarily in the $3m-$4m bracket, brand new or 5-10 year old offerings that did not require work, had wow factor or were well located. Sorrento's days on market was stable in the mid-40s, while Portsea stayed similar to the last quarter markedly higher than Sorrento in the mid-60's.
Portsea & Sorrento
Slight buyers market
Portsea Oct – Dec
# of Transactions: 5
Total: $25,798,888
Median: $4,900,000
Max: $7,810,000
12 Month rolling median house: $3,425,000
Days on Market: 66
Sorrento Oct – Dec
# of Transactions: 23
Total: $54,993,000
Median: $2,295,000
Max: $4,100,000
12 Month rolling median house: $2,400,000
Days on Market: 47
In Sorrento back in January 2022, 19 Ronald Avenue as a land value proposition sold at a competitive auction for $2.2m. A mere 10 months later in November a near identical land value offering on the opposite side of the road at 26 Ronald Avenue sold for $1.9M, representing a 15% discount to the buyer. On the Australia Day weekend auctions, arguably the biggest weekend of the year for Sorrento real estate, we witnessed another land offering at 35 Ossett Street, practically opposite the village with slightly larger land than those on Ronald Ave, only attract a smidge over $2m, highlighting the premium prices that buyers forked out in the post-covid buying frenzy of 2021 into 2022. Late summer has seen a flurry of larger offerings hit the market, with 3520 Point Nepean Road, Sorrento by Liz Jensen of Kay & Burton with a guide of $25m-$27.5m, 8 Leggett Way, Sorrento also with Liz Jensen and Gerald Delaney of Kay & Burton with a guide of $16.8m-$17.8m, 3049 Point Nepean Road by Max Prentice of Prentice Real Estate with a guide of $10m-$11m, and then back to Point King with 11-15 Kemp Road & 17 Point King Rd both by Rob Curtain of Sotheby's between $7m & $8.75m.
Overwhelmingly lacking the urgency with half the volume in listings and sales expected for this time of year, only a couple of bigger sales at Paringa Road and two in Blair Road provided a welcome change to the sleepy Portsea of 2022. At $6m, $4.2m and nearly $8m respectively, briefly fluttered a little life back into the market, but that was that. January was very uneventful, save for 8 Macgregor Ave that went for $3.8m through Hamish Opray of Sotheby's, finally selling after a couple of interrupted attempts. We still have eyes on Franklin Road, circa $10m, and McColls Way, circa $18m, both with Sotheby's (Patrick Sinn & Rob Curtain). Plus, the new listings of 27-31 Macgregor Avenue by Andrew Hayne of Marshall White with a guide of $10m-$11m, and 32 Elizabeth Rd by Danielle Vains of Sotheby's with a guide of $6-$6.3m.
Blairgowrie
Buyers market
Oct – Dec
# of Transactions: 29
Total: $55,971,000
Median: $1,575,000
Max: $3,725,000
12 Month rolling median house: $1,720,000
Days on Market: 35
Blairgowrie was very underwhelming through winter with only 13 sales, with a slight reprieve into the spring/early summer market of 30 sales. The average number of listings rose but were still selling well. Interestingly, the median price pulled back a little which may be due to low vendor confidence resulting in minimal good quality properties being placed on the market. This median change cannot be solely interpreted as a reflection of the actual change in value of homes, more of the lower quality properties people are currently putting onto the market.
In a sign that people are perhaps starting to get rid of their holiday homes, there were more entry level compromised properties and less builders offering prestige homes for the market. Vendors acknowledged that they could not get premium prices for their properties so good quality homes rarely made the market because they did not want to sell without strong competition. The days on market were pretty healthy, mid 30's down from 53, showing more urgency despite the higher volume, but not unexpected given the seasonal time of year. Buyer caution was high however, with an example of this evident at a property at 124 Canterbury Jetty Road, Blairgowrie that went to auction over the Australia Day weekend which we successfully secured for a client. Two additional bidders competed, but the property ended up passing-in to us and we bought it in a post-auction negotiation. There have been quite a number of properties in Blairgowrie that did not sell under the hammer that sold afterwards, showing perhaps the market depth isn't quite there. There were still positive results, with Danielle Vains from Sotheby's International Realty offering her thoughts about the sale of a property at 8 Archer St, Blairgowrie for $3.481m, "A special sale late last year, this property continued our ongoing relationship with our lovely vendors throughout the build/styling process to a successful sale campaign".
Looking ahead on the Peninsula in 2023
A definitive positive change in sentiment has swept across the Peninsula in late summer 2023, and conditions look to be improving, albeit perhaps slowly. Holiday makers flowed in during what has been a superb patch of summer weather, and attendance at open for inspections and auctions are building momentum. Bidders are still minimal, but the level of stock is also currently down as we expect a late summer / early Easter market in terms of quality properties coming on. Danielle Vains said, "Although some vendors expect softer market conditions in 2023, inventory levels of premium properties on the Mornington Peninsula are still relatively low. It's never been more important to ensure properties are exceptionally presented and priced for the current market conditions". Speaking to agents, many have done new appraisals for a lead into Easter. We should start seeing these listings enter the market, some with 4 week campaigns, late February to early March.
Where prices go from here is completely dependent on this volume of stock, and an increase across the board like in Mount Martha may force prices sideways or back a touch. If there is no meaningful increase between now and Easter, the market will hold its buoyancy, and the scarce properties will likely sell quickly with multiple offers. Rate rises still occurring with regularity may be the catalyst for more stock coming to market after Easter. As was the case for the majority of 2022, a number of external factors clearly still play a dominant role in the direction of the real estate market on the Peninsula and across the nation as a whole. Watch this space.
Michael Sier
Michael Sier
Get in touch with Michael to find out more about the Mornington Peninsula property market, or make an appointment to discuss your requirements and see how we can help you get into your ideal home sooner.
Read more about Michael Sier
Free Consultation
The first step in your property journey, whether it be buying or selling, is gaining clarity on your situation.
Book a Free
Consultation
Or fill out a form