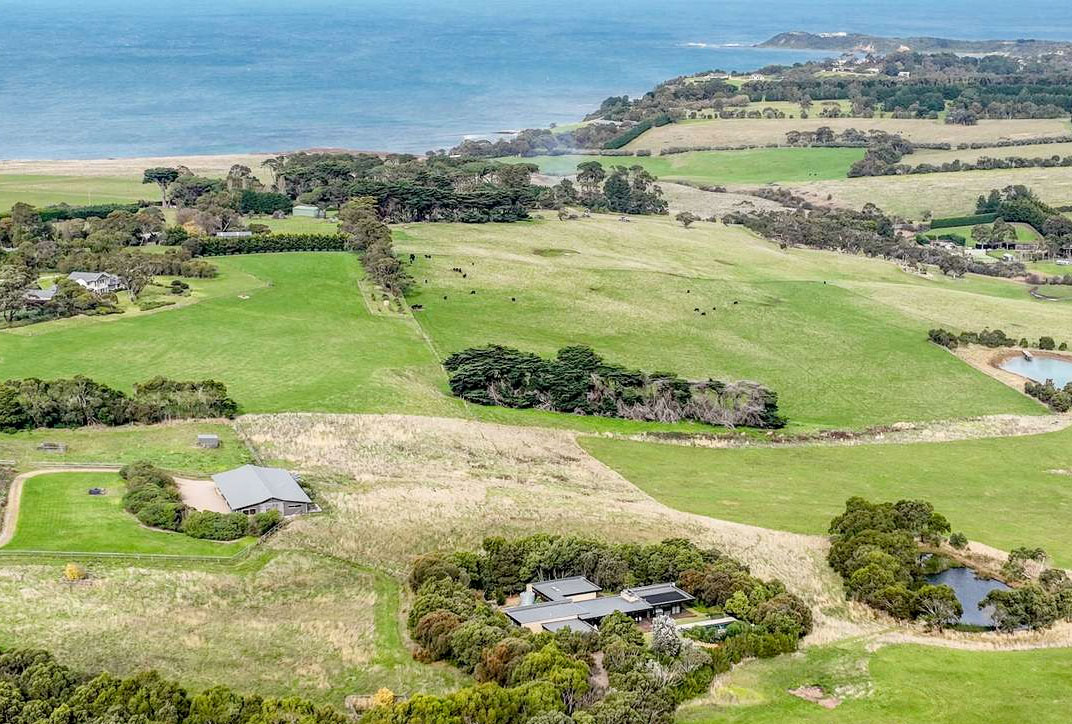 Nov 04, 2022
When I ask some selling agents to give me a word to describe the current mood of the market on the Mornington Peninsula, there's a common response. Fickle, apprehensive, cautious optimism and opportunistic just to name a few. What they are really describing, is negative sentiment. Some are more optimistic than others, and anecdotally they may genuinely believe the market is improving based on some isolated results they've been involved in. By and large, though, the macro market is telling a different story and everyone would agree that it's a hard slog.
Our Peninsula market is largely driven by sentiment, as the market has a high proportion of lifestyle buyers. We don't solely rely on the traditional capital city fundamentals of supply and demand driven by population growth and affordability. Instead, we have a two-speed market, defined by two differing major buyer profiles. The first buyer profile type is locals, either first-home-buyers or upgraders or relocators from the big smoke for a change of lifestyle. These are the permanent residents, and they tend to be more concentrated at the northern tip of the Peninsula where access to Melbourne's southeast suburban and inner-city jobs and private schools are still feasible. The second major demographic of buyers is the holiday home and empty-nester buyers, who still spend a large amount of time in Melbourne or interstate, but like to use their Peninsula abode for the warmer months of the year and possibly make a little short-term rental income on the side.
The first profile of buyers I mentioned, let's call them "locals", are tied to credit supply. When debt is cheap and borrowing capacity is high, these buyers become active and enter the market. However, when rates go up and borrowing capacities are reduced, these buyers remain renting or stay put in their homes, and only the brave choose to upgrade or take on more expensive debt. On the other hand, the second major buyer profile, let's call them "holidaymakers", are not as affected by credit supply. These buyers are driven by market sentiment. It's a bit of a herd mentality, and nobody wants to be the trendsetter, for fear of being on the wrong path. So while the newspapers print stories of doom and gloom when the median price has moved a few percent, and while "economists" make bold predictions of housing crashes (that they never get right), the herd stands still and waits for some good news. Joining the herd, are nervous vendors who don't want to sell their houses or holiday homes in a "falling" market.
So, what happens to the market when we have locals who can't borrow enough money, holidaymakers who don't want to buck the trend, and vendors who are worried about losing money? The answer is nothing. Activity dries up, listings dry up, buyers dry up, and stats such as median prices become less meaningful on low volumes. "But there are outliers" I hear you say! Yes, some vendors are feeling the pinch and want to offload an investment property, or downsize and reduce their debt levels. Some savvy buyers are still seeking opportunities to buy without competition and pick up well-priced homes in A-grade locations, which currently is THE best time to do it. As you'll see below though, in each local market there is an extremely low level of stock, which is understandable given the cost of living pressures, rate rises, and let's face it, really crappy weather for a prolonged period.
Where does this leave the market as we head into the peak selling season on the Mornington Peninsula? I'll answer that below, but for now, let's take a look at the major local markets for a wrap-up of "activity" as we head into the depths of Spring and beyond.
Northern Tip

Around the Hill

Southern End
Northern Tip
Buyers market
With its close proximity to Melbourne and easy access to jobs and facilities, the Northern Tip has a higher proportion of owner occupiers to holiday homes. Because of this largely residential population it follows more of a year long cycle, as opposed to the seasonal cycles of the more isolated holiday home suburbs down the southern end.
Mount Eliza
Buyers market
Jul – Sept
# of Transactions: 60
Total: $114,108,650
Median: $1,670,000
Max: $5,000,000
12 Month rolling median house: $1,780,000
Days on Market: 40
Sales volumes in Mt Eliza have remained consistently low throughout the year with around 60 houses per quarter selling. The days on market figure slowly crept out from the start of the year but then tightened up again through winter to around half the time on average to sell a home compared to the 6 months prior. The number of new listings coming to market increased by around 10% in the past quarter however we still remain at levels consistent to as far back as 2016. One thing that we've seen though, is the quarterly median price take a hit from $2m in Q1, to $1.74M in Q2, and now in Q3 to $1.67M. Does this mean the market is falling? Not necessarily, over the last 12 months, it has been between $1.7M & $1.8M, with the first quarter containing a higher proportion of more expensive sales. The rolling 12-month median is still at $1.78M. Sure the heat has come out and properties are not selling for over-inflated prices anymore, but the more likely answer is that high-value listings are not coming onto the market as the year rolls on. There were 12 reported sales above $3M in Q1, and just 8 in Q2 & Q3 with the highest reported sales only coming in at $5M, both in Kunyung Rd, at number 10 (Michelle Skoglund of Aqua Real Estate) and number 30 (Dean Phillips of McEwing Partners). Nothing of significance was reported in the golden mile as we had throughout 2021 when we highlighted 8 sales above $5m all selling within two weeks.
Mount Martha
Buyers market
Jul – Sept
# of Transactions: 54
Total: $103,762,017
Median: $1,638,000
Max: $4,244,650
12 Month rolling median house: $1,800,000
Days on Market: 50
In Mt Martha, the days on market figure is starting to be a concern, now touching 50 days. There are also 13 overhanging properties that just won't sell (greater than 180 days on market) and may need to be repriced or taken offline and relaunched in Summer. We're seeing some homes buck the trend and sell under competition in shorter periods than average, but overall the sentiment continues to match the weather in Mount Martha. It's gone from being a seller's market last Summer, to a balanced market in Q1 this year, to a buyer's market in Q2 & Q3. The volume of sales continues to be in a steady decline from January 2021. Now only 54 homes were sold in the previous quarter compared with 69 at the same time last year. In stark contrast to what we're seeing in terms of buyer activity, however, there is serious money flowing into the suburb in the form of new construction. You just have to drive along Bay Road and Glen Isla Drive to see the number of new builds underway or recently completed, then head over to the "golden triangle" and there's an abundance of new luxury homes being built or renovated in Leggatt, Prescott, Lempriere, and more to come in Irvine and Two Bays with a number of knockdown homes on and off-market. Clearly, there are no panic stations or the construction activity wouldn't be as strong, but until sentiment changes for the better, there will continue to be a lack of stock and a hesitance of buyers on the sidelines. Mount Martha's 12-month rolling median continues to hover at $1.8M only slightly under the previous quarter. The tide may be starting to turn, however, as we head into a warmer weather period. We have seen some properties sitting on the market for 3+ months eventually sell, with the likes of 350 Craigie Rd for $3.2M (Trent Cameron of Warlimont & Nutt), 15 Headland Waters in excess of $4.2M (Andrew Gillespie of Bon Accorde), 17 Hinkler St for $2.71M (Trent Cameron of Warlimont & Nutt), and 39A Dominion Rd for $4.025M re-listed with Brodie White of Nicholas Lynch Real Estate. Buyers are still seeing the value and acting quicker on properties below $2M beachside, but homes with compromises require accurate pricing for the market to show interest.
Mornington
Buyers market
Jul – Sept
# of Transactions: 71
Total: $99,702,600
Median: $1,180,000
Max: $4,000,000
12 Month rolling median house: $1,195,000
Days on Market: 44
The market in Mornington is one of the more fluid markets on the Peninsula, with higher volumes and consistent trends and often the barometer for change in sentiment. The volume of sales has slowly declined throughout the year and this quarter with the lowest figure for the year with just 71 sales. To put this into perspective, the same time period last year had 170 sales. The number of new listings is slightly increasing throughout the year but we aren't seeing a rush of properties to hit the market. Mornington is much like Mount Eliza where the stock levels have been consistent back to 2016. What we are seeing though is the days on market figure drift out from the mid-30s to the early 40s. The urgency simply isn't there. The 12-month rolling median remains unchanged at just shy of $1.2M which is a sign of the market continuing to show stability, even if activity levels are extremely low. There were some nice results, however, with 18 Morell St selling for $4M by Tony Ladiges of Harcourts within a week, and 10 Lucas Place for $2.56M by Dean Phillips of McEwing Partners within two weeks. Then there were two around $3M that eventually sold after 3+ months, being 291 Mornington-Tyabb Rd (Grant Perry of Homes & Acreage) and 45 Caraar Creek Ln (Chelsey Gibson of Marshall White).
Around the Hill
Balanced Market
There is such a short supply in the acreage and coastal markets "around the hill" that it is very hard to determine a trend. Given the days on market figure has blown out from 20 at the start of the year to 80+ right now, combined with the fact we only have 26 listings across the hinterland on the market at the time of writing this report, you'd have to argue that the urgency has gone from buyers and sellers alike. With just 8 sales across the suburbs in the past quarter, and only two of those sales listed and sold within the same quarter, the activity levels have come to a grinding halt. On this basis, I'm of the opinion that the market remains balanced, although there is a reduced quality and volume of stock. We've seen a few homes overshooting their expression of interest closing dates, being repriced, and even withdrawn.
Balanced market
July – Sept
# of Transactions: 8
Total: $31,146,000
Median: $3,525,000
Max: $7,300,000
12 Month rolling median house: $2,910,000
Days on Market: 88
Two sales above $7M of note were 740 Tucks Rd, Shoreham for $7.3M by Ben Kenyon of Stockdale & Leggo, and 2337 Mornington-Flinders Rd for $7.025M by newly appointed Executive Director – Group Board Member, Tom Barr-Smith, of Kay & Burton. The area median remains unchanged at a touch below $3M in a sign of stability for the region, and perhaps with such little choice buyers have turned their attention to other things and will revisit their lifestyle purchase in the Summer when we will see better listings come on the market.
I asked Andrew Hines, Director of Kay & Burton for his opinion of the market and he told me that "the Western Port and hinterland side of the market has started slower this year than other years due to all that is going on with the overall market. The positive news is that some great listings are coming on for the Spring/Summer market place and we feel that with such unique offerings buyers who have been short on stock in the past will be a little spoilt with choice this year. It could well be a good year to purchase with what is expected to be a little less competition in the marketplace. A little more consistency in the weather will make a positive difference to people getting out and having a look around and we expect the market to get busier as we head towards the end of the year and people's appetite for the Peninsula increases. Prices on this side of the Peninsula have held their ground and we feel they will continue to do so, it is an aspirational area that a lot of people now call home full time as well as enjoy as a getaway."
Southern End
Portsea, Sorrento & Blairgowrie
I've combined the two southernmost idyllic beachside and clifftop suburbs together for this quarter as the volume of sales was almost non-existent. We had just the one reported sale in Portsea at 26 Wanda Close for $2.48M by Liz Jensen of Kay & Burton. I note that early October has seen two more properties sell under the watch of Liz Jensen in Portsea, 4 Limeburners Way offered off-market for quite a few months now, and 33 Elgar Grove. There are only 7 listings online at the time of writing. I do know there are some larger clifftop homes across both Portsea and Sorrento coming for Summer, but again the volume will be very tight.
Portsea & Sorrento
Slight buyers market
Portsea July – Sept
# of Transactions: 1
Total: $2,480,000
Median: $2,480,000
Max: $2,480,000
12 Month rolling median house: $3,400,000
Days on Market: 12
Sorrento July – Sept
# of Transactions: 13
Total: $30,119,000
Median: $2,150,000
Max: $4,450,000
12 Month rolling median house: $2,451,500
Days on Market: 70
In Sorrento, we witnessed just 13 reported home sales with the average days on market swelling to around 70, thanks to the overhanging sales of 2 Gulls Way for $1.64M (Michael King of Kay & Burton), 6 Forrest Ave for $1.83M (Sam Crowder of Crowders RE), and 34 Queens Rd for $2.4M (Liz Jensen of Kay & Burton), each on the market for more than 4 months. Without those sales, the days on market figure is more like 40, which is really how it feels in Sorrento currently. We were treated to the sale of the exquisite mid-century modern build at 38 Erlandsen Ave by Rob Curtain of Sotheby's for $4.45M (after a price adjustment initially seeking $5M+). Originally selling in November of 2019 with a basic home on the property for $1.22M. These are the homes that have been lacking in Sorrento of late, and perhaps the off-cliff $5M level is testing the ceiling in this market. With stock levels at the lowest volumes since 2017 (ignoring covid lockdowns), it is hard to see what the state of play is in Sorrento and Portsea. Like the other beachside suburbs, it will surely have an uplift of activity once the seasons change and holidaymakers flock to the shores once again.
Blairgowrie
Buyers market
July – Sept
# of Transactions: 13
Total: $22,017,000
Median: $1,660,000
Max: $2,950,000
12 Month rolling median house: $1,797,000
Days on Market: 53
With just 13 reported house sales in Blairgowrie over the last quarter, and the days on market figure extending out to the low 50s from 30 at the start of the year, it is fair to say that Blairgowrie has become a very sleepy market. Overhanging properties (3 months or greater on the market) from the previous quarter such as 17 Revell St (RT Edgar) for $2.95M and 5 Olive St (Fletchers) for $2.895M finally sold, in stark contrast to the same period last year when we had 39 transactions and a days on market figure of 22 days. Again like most suburbs on the Peninsula, the 12-month median price remains steady at $1.8M but has certainly re-leveled from its 2021 highs. Yes the winter period is slower and the weather this spring has been undesirable, but we haven't seen an uplift in stock yet and it looks to be a very tight lead-up to Christmas. Will we see any interest rate rise pain impact listing volumes this year? Unlikely to have any real impact just yet. Next year we may see some holiday homes put onto the market to ease the cost of living pressures, but it's not a guarantee, and waiting on the sidelines for prices to drop is a risky play.
I asked one of the leading agents in Blairgowrie, Director of Fletchers Real Estate, Josh Callaghan for his views on the current landscape. "The dialogue on everyone's lips is 'interest rates' and 'affordability'. The reality is every market and sub-market, i.e. suburbs and locations, perform differently and there is no one fiscal lever that will have a bearing on the market as a whole. Looked at historically, the cash rate is currently around the ten-year average, and certainly still much lower than it has been for most of the last three decades. Why do I openly talk about interest rates? Because I find many people that I deal with, be it buyers and sellers focus on this and forego looking at the underpinning fundamentals of a market being supply, demand, and vacancy rates; the key indicators of a sub-market. Across the board, Australia hasn't seen the traditional increase in real estate supply readying for the much-hyped 'Spring' market, and locally, in the Southern Mornington Peninsula suburbs, this is the case. Stock levels remain tight and quality real estate is tightly held. We have transitioned over the past 7 months in correlation with the fiscal policies imposed by the RBA, however, in the past 5 weeks, we have seen confidence return to the market with active buyers, those new to the market but also a number who have re-entered the market. Simply, the dust has settled and good real estate is still sought after, albeit keeping in mind we are in a fair market. On recent sales, we witnessed multiple offers on an entry-level property at 505 Melbourne Rd, Blairgowrie selling for $1,115,000 to the highest bidder out of 5 buyers. A higher-end property at 5 Olive St, Blairgowrie sold for $2,825,000 with 3 written offers, and another pre-market Blairgowrie property sold for $2,600,000 within 1-day of being engaged. I always remind myself that the RBA has invariably lowered rates after each period of increases has ended, so we can hopefully expect the same to occur again. The window to purchase in a fair market is closing fast and fundamentally for sellers, choosing the right agent in this market is crucially important!"
What can we expect on the Peninsula for the rest of 2022?
Buyers are waiting for sentiment to improve, and perhaps the first sign of this was the two consecutive smaller rate rises we've just had. Inflation still seems to be out of control somewhat, but the peak of the rate cycle doesn't appear too far away now. Sunshine and warmer weather will also help lift market sentiment, as holidaymakers venture down the coast and romanticise the idea of living somewhere new or having a more permanent holiday home to frequent. The catalyst we need is vendor confidence to rise, and better quality homes coming to the market in a more normal volume. If vendors do decide to list their properties, then agent selection and home presentation are two critical components to executing a successful sale campaign. Gone are the days of handing the keys to any old agent, scheduling an auction and laughing all the way to the bank. Choosing the wrong agent and not giving the correct attention to the advice, maintenance, styling and marketing, can and will make a huge difference in the outcome in today's market.
We advise clients on both the sale and purchase of property and often combine/time the two within the same journey. If you are considering a move, a more permanent holiday, or putting your house up for sale, reach out for a chat and we can guide you in the right direction. Our advice hasn't changed from last quarter. We believe the market will continue to trickle along into Summer, with a slight increase in stock levels and increased buyer demand which will hold prices steady, if not even a slight improvement.
Mornington Peninsula Area Specialist
Michael Sier
Get in touch with Michael to find out more about the Mornington Peninsula property market, or make an appointment to discuss your requirements and see how we can help you get into your ideal home sooner.
Read more about Michael Sier
Free Consultation
The first step in your property journey, whether it be buying or selling, is gaining clarity on your situation.
Book a Free
Consultation
Or fill out a form