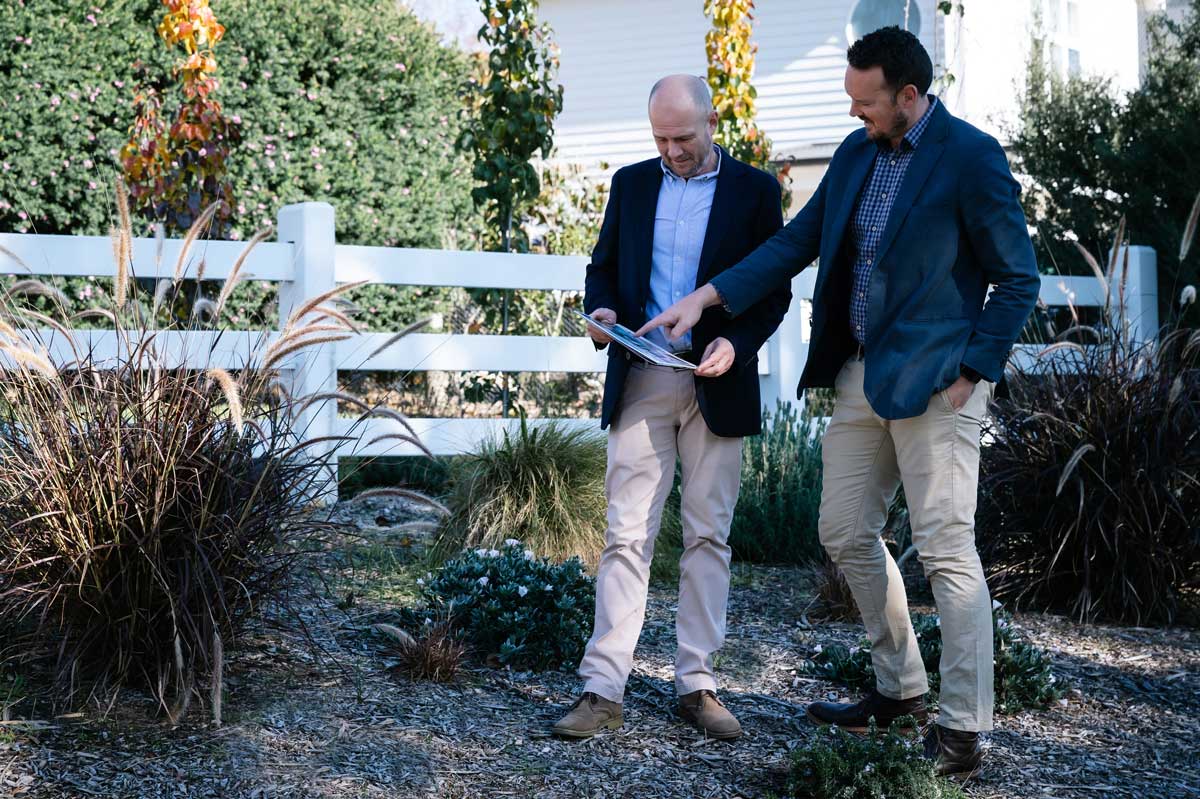 Jul 16, 2021
It is hard to believe that we have just stepped out of lockdown 4.0 and, at the time of writing, into yet another one 5.0, and that the first half of 2021 has now been put to bed. We experienced one of the busiest Summer markets ever on the Peninsula with extreme buyer demand, overflowing into Autumn, and now Winter, with buyers patiently waiting on the sidelines for the stock to come.
Holiday-goers from all over Victoria discovered the reason we call the Mornington Peninsula home by exploring the amazing attractions from the renown vineyards throughout Red Hill and Main Ridge, our pubs and restaurants with sensational seasonal food on offer, and finally relaxing and exploring the best that Port Phillip Bay has to offer from bayside beaches to the rugged ocean coastline.
We've observed an increased demand for holiday homes since international travel has been temporarily suspended. The ability to generate short term rental income, while also having personal use, coupled with the lowest interest rates in history, has made the prospect of holiday homes and weekenders on the Mornington Peninsula even more attractive than usual. Demand across the entire state, if not country, has been consistently strong since last October. The only momentary dips occurring during a snap lockdowns or school holiday periods as depicted in the REA Insights Weekly Demand Index – Buyers' report below.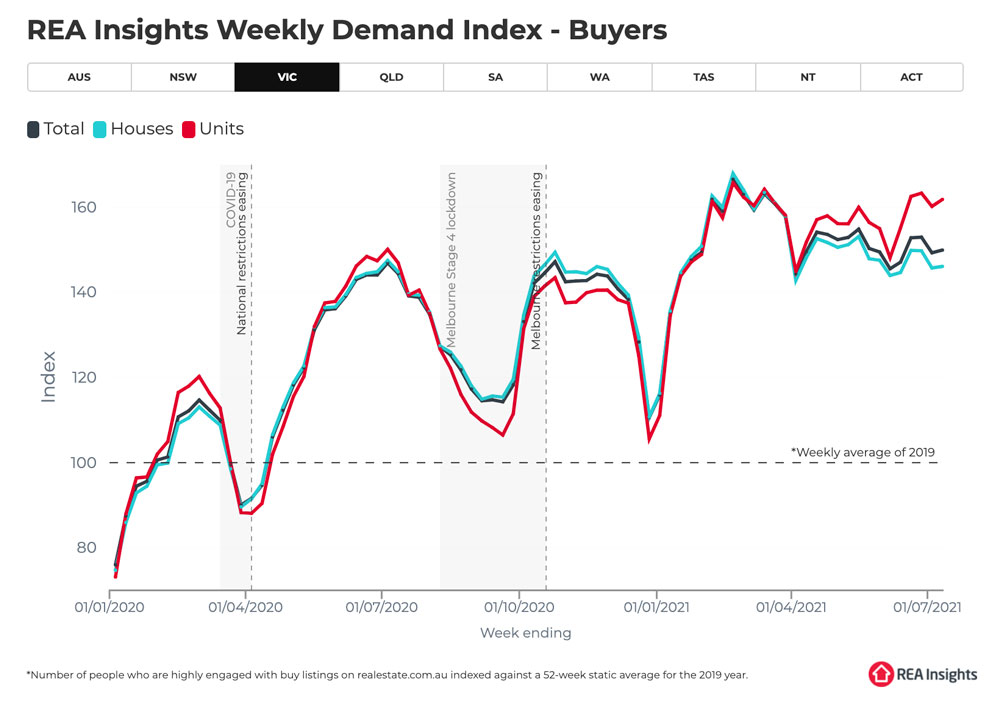 Demand on the Mornington Peninsula is at an all time high for many of the reasons that we have highlighted, and that the fact that many of us are now willing to prioritise a better lifestyle balance that we've discovered whilst our movements have been restricted. With this comes an extremely strong demand for stock which has seen days on market reduced to levels that we have not experienced before.
Quite simply, it is a one-dimensional market where sellers mostly hold the power. I will touch on a few examples of this below in the local reports. Properties that have an aspirational aspect are the most sought after. For example, a view of the water or a walk to the beach, a tastefully renovated or staged home that exhibits wow. These types of properties are moving so fast that agent quotes cannot keep up with the rising prices.
Now is the perfect time to engage with BuyerX and plan a strategy for your next move, to avoid rushing into a decision under pressure when opportunities next arise.
Below is an overview of the major million-plus markets on the Peninsula, with apologies to some of the fringe areas which are not featured below (please get in touch for my assessment of these markets if you are interested).
Northern Tip

Around the Hill

Southern End
Northern Tip
It is a tale of the quick and the dead for A-grade homes in the northern tip of the Peninsula. The growth that has occurred in the northern tip in the past 12 months has been outstanding and has seen all these suburbs experience strong double-digit growth. Various data outlets have positioned Mount Eliza's median price increase up 35%, Mount Martha's increase around 33%, Frankston South up by 18%, and Mornington up by 17%.
Mount Eliza
Seller's market below $2M, Balanced market above $2M.
January – March
# of Transactions: 143
Total: $258,794,554
Median: $1,560,000
Max: $7,080,000
April – June
# of Transactions: 99
Total: $187,352,625
Median: $1,720,000
Max: $5,000,000
In Mt Eliza, the days on market is around 31 days currently, up from 19 days during the peak of the market in March. This is not surprising given the time of year, and the lack of quality stock for sale. Where we are seeing strength still is the $1.3-1.8M bracket, where homes are selling in under 2 weeks, closely followed by the $1.8-2.5M bracket where three weeks is a reasonable timeframe. Above $3M the buyer depth appears to fall away, however the data is a bit more lumpy, where more considered campaigns are required and tend to contain pre-market or off-market periods before coming online, if at all.
There have still been some top end sales in short periods such as 41-43 Canadian Bay Rd (24 days – $6.15M – Community Real Estate), 26 Daveys Bay Rd (27 days – $4.275 – Nicholas Lynch Real Estate), 11 Pelican Pl (31 days – $4.75M – Aqua Real Estate), 6 Sandara Crt (40 days – $4.2M – McEwing Partners), and 7 Oak Grove (55 days – $5M – Aqua Real Estate). Some of these offered off-market prior to listing.
New player to the northern tip of the Peninsula market, Marshall White, has made their presence felt with an increasing market share in the middle tier along side RT Edgar, Impact and Nicholas Lynch. Still leading the pack in the top end is Michelle Skoglund at Aqua Real Estate, although Rob Curtain has recently opened another Sotheby's office in Mt Eliza and procured the services of Liz Todd, formerly of McEwing Partners and briefly with Marshall White. A watch and wait here to see if they can have the same success as they've had in Flinders, Portsea and Sorrento.
Mount Martha
Seller's market, with supply issues.
January – March
# of Transactions: 157
Total: $244,557,854
Median: $1,250,000
Max: $6,800,000
April – June
# of Transactions: 104
Total: $172,279,200
Median: $1,500,200
Max: $5,910,000
In Mt Martha, the average days on market is currently at 22, one of the lowest on the Peninsula, down from 25 days during the height of summer. Whereas Mornington and Mount Eliza who both signalled market peaks in March (based on activity, not necessarily price growth), Mount Martha has been going from strength to strength albeit on skeleton stock levels. Warlimont & Nutt continues to hold the market share with 79 of the 261 reported sales. Beachside properties under $2M are snapped up within the first week, and homes in the $1.6-1.8M bracket at the beginning of the year are now fetching $2M due to a lack of available choice and, what seems to be, an unending buyer depth. Even the commercial sector is strong, with the new childcare centre at 4 Watson Rd selling in February for $6.3M.
Auctions in Mount Martha are not very common, however have proven to be a very successful sale method if timed correctly, with some incredible results significantly over the quoted range such as 92 Glenisla Drive ($1.6M – Marcus Gollings, McEwing Partners), 32 Kilburn Grove ($2.64M – Brendan Collopy, Bon Accorde), and who could forget the eye watering result at 259 Esplanade ($3.71M – Chelsey Gibson, Marshall White – around $1.5M over the quote).
There is no doubt that Mount Martha continues to be the most imbalanced supply & demand market in the Northern Tip. Despite the cold weather and recent soaring price growth, the buyer depth and lack of quality homes available keeps Mt Martha firmly in a sellers market. Buyers from Melbourne are keenly watching for homes with renovation potential on large blocks walking distance to the beach. The problem is that there are no sellers in this category wanting to offload because there are no options for them to upgrade to.
Mornington
Balanced market beachside, Seller's market highway side.
January – March
# of Transactions: 255
Total: $285,967,633
Median: $910,000
Max: $7,500,000
April – June
# of Transactions: 156
Total: $176,874,132
Median: $967,500
Max: $5,325,000
In Mornington, the average days on market is around 30 days currently, up from 21 days at the market peak in March. Again, as with all suburbs on the Peninsula, the winter months subdue motivation from sellers and consequently the level of quality stock available has diminished. The year started in the same fashion as 2020 finished, with unprecedented ferocity by buyers looking to move into the area. Many of these from Melbourne, appreciating the flexibility of working from home with a manageable commute to inner city workplaces when required. The first home buyer market saw entry points in the 600s turn into 800s in the blink of an eye. The newer estates now with a $1M+ entry point. Beachside homes are also no longer achievable under $1M, largely thanks to the developer market which continues to churn out the two and three site townhouses. A notable impact in this market has been the rise of Marshall White and in particular Chelsey Gibson and Adrian Calcedo who had a hand in the majority of the agency's 45 reported sales over the first half of this year in Mornington alone.
According to Chelsey Gibson, "The market recovery we saw building last year once the lockdown was lifted in Victoria has only gained momentum in the ensuing months. The peninsula has been the principal beneficiary of the wave of people relocating to regional and coastal areas. Many city dwellers are deciding to make permanent sea or tree changes while others are investing in weekender and holiday homes. Demand is so strong that many properties have been selling as soon as they are listed. As a result, prices have been rising consistently and rental prices on the peninsula were the only ones to increase in the whole of Victoria in the year to date. Our only issue is the lack of supply. Even in the traditionally quiet winter months, transactions continued in record numbers. Among the many highlights in recent months was the sale of a property at 259 Esplanade, Mount Martha where the size of the land and magnificent views were its principal assets. After expecting a price in the range of $2,150,00 – $2,350,000, the home was finally sold for $3,710,000. In a prime Mornington location close to the beach, a residence at 11 Channel Street was sold essentially for land in an off market sale that resulted in a price of $2,000,000. With working from home becoming the norm and international travel unlikely to resume in the short term, I expect the demand for properties on the peninsula to further increase as we approach spring and summer."
The Beleura Hill precinct continues to be in strong demand, with a plethora of sales between 2 and 4 million. Homes like 11 Frontage Way ($4M – Dean Phillips, McEwing Partners), 27 Beleura Hill Rd ($5.325M – Dean Phillips, McEwing Partners – 21 days), 29 Caraar Creek Lane ($3.3M – Alex Corradi, Danckert Real Estate), 41 Caraar Creek Lane ($2.98M – Dean Phillips, McEwing Partners), and 11 Channel St ($2M off market – Chelsey Gibson, Marshall White) among others.
Whilst we are seeing strong activity at all price points, we're not seeing the volume of quality stock to test the market depth. McEwing Partners continue to have a stranglehold on the top end in Mornington and arguably Mount Martha too.
Frankston South
Balanced market.
January – March
# of Transactions: 133
Total: $137,558,588
Median: $923,000
Max: $2,900,000
April – June
# of Transactions: 89
Total: $95,412,987
Median: $999,999
Max: $2,335,000
The average days on market to sell a home in Frankston South is currently sitting at 24 days down from 30 days in the March market peak. Activity has slowed like the rest of the Peninsula in the second quarter of the year, however the demand is still there from buyers which has brought the days on market down to 24 days on lower stock volumes. We're not seeing runaway prices at auction and we're seeing some auctions take prior offers, which indicates the buyer depth may not be as strong as it was at the beginning of the year when there were queues out the front of open for inspections.
Prices have since grown double digits, possibly forcing first home buyers out of this market, particularly around the popular Norman Ave shopping precinct where the entry point now sits above $1.2M for a standard original condition family home. The Oliver's Hill highway side streets such as Liddesdale, Thames, Neil & Cliff on bigger 1000sqm blocks have had a handful of sales this year from land value through to renovated family homes between $1.1-1.5M. There is still good entry point value on the Frankston High School side of the suburb where the blocks are smaller and the homes are ripe for renovation.
Around the Hill
The extreme buyer demand and depth "around the hill" has not waivered in 2021. A consistent days on market figure hovering around 28 days, largely due to unseasonably low stock levels, and the lack of international travel forcing would-be travellers to find their own escapes in the country-side. Hobby farms are now prized possessions and 50% more expensive now than pre-covid in some cases at the low end. We saw incredible auction results coming into the finish of last year, and that continued into 2021 with strong results and buyer depth.
Seller's market
January – June
# of Transactions: 36
Total: $100,338,000
Median: $2,980,000
Max: $8,500,000
A spattering of 6-7M off market and private sales by Kay & Burton occurred in Flinders and Red Hill in classic streets such as Paringa and Keys roads, and in Main Ridge the $8.5M sale of "Patterdale" with touches by Stephen Akehurst. The big one though, was the much anticipated cutting edge luxury "Horizon" in Flinders overlooking Bass Strait built by the Williams Group and sold to an international buyer via Rob Curtain of Sotheby's for over $20M.
The entry point into acreages, if you can find it, sits around $2.5-3M now. There is just a real lack of motivation from sellers to part with their piece of dirt. Another active market are the ocean/water front homes, where we saw 6 The Esplanade, Flinders sell under the hammer for Andrew Hines of Kay & Burton. The executors auction which fetched $3.55M, well over the reserve, for an original condition cabin style beach shack on some 800sqm of land.
I asked Andrew Hines for his thoughts on the market and he told me "There is no doubt that the Western Port side of the Mornington Peninsula has experienced growth and demand unlike anything we have seen before. Part of the drive for buyers is the changes they would like to make to their lifestyles given the changes people experienced with the way they live with the Covid lockdown, the idea of being able to move around your property with space and fresh air has tugged at a lot of people's emotions. You couple that with the idea of getting your family around you by having a family getaway and the restrictions on travel and not being able to get overseas or interstate have driven the desire for people to have a place to getaway. We are one hour away from Melbourne, surrounded by amazing country side, beach's and an amazing amount of incredible places to dine. With the increased demand and low supply we have seen prices lift between 10-20% over the past 6 months from small properties to acreage properties. The strength of the market has been evidenced with the numbers of bidders at Auctions over the past 6 months, the Auctions are back and proving to be very successful. Two notable Auctions were 6 The Esplanade in Flinders where we exceeded the vendors expectations with multiple bidders for an un renovated house with views over Western Port. Another notable Auction was 90 Seamists Drive Arthurs Seat, a small rural property on seven acres. We were blown away with the number of people inspecting and we were very pleased for our vendors again with a result above the expectations."
Southern End
The strength is there in the southern end of the market, however the further you venture from Blairgowrie into Sorrento and then finally into Portsea there is lack of stock coming onto the market to meet the number of buyers on the sidelines.
Stock levels are always fairly low in the colder months in Portsea, but just as Sorrento and Blairgowrie are also experiencing lower than normal levels, Portsea is also half the listing volume as we're used to seeing.
Portsea
Seller's market.
January – June
# of Transactions: 43
Total: $149,991,000
Median: $2,950,000
Max: $22,200,000
Similar conditions in Portsea as there are in Sorrento with the days on market hovering consistently around 26 days. A few overhanging sales of very long listings greater than 500 days were mopped up this year, and others that came to market have moved within the first few weeks.
The majority of the recent sales have been between $2-5M with a few other big ones on Pt Nepean and Wildcoast roads between $9M and $12M. Speaking of Wildcoast Rd, the Tintagel farm subdivision which failed to sell at $25M as one large parcel three years ago, was subdivided into 8 vacant blocks, listed by Hamish Opray of Peninsula Sotheby's and auctioned in the last week of June for a combined total of circa $50M. Incredible buyer depth to have such competitive bidding at such a high level across so many lots on the same day.
Early into 2021, we also saw a huge price achieved with Rob Curtain of Sotheby's private auction of 3 Franklin Rd, the clifftop home on an acre of land, fetching a whopping $22.2M – nearly $6M over the published reserve.
I recently caught up with Hamish Opray and he was kind enough to share his opinion of the market in the southern end, "Demand certainly hasn't slowed throughout 2021 so far in our key markets. We continue to see competitive bidding from our traditional downsizers, young families re-evaluating their requirement to be located in the city and a number of expats still showing interest from abroad with intentions of moving back home at the earliest opportunity. The global pandemic has made the southern peninsula a "year-round" proposition for many with working from home becoming the new normal, and buyers prioritising a coastal lifestyle, clean air and a less congested environment. Our traditional 'off-season' through the colder winter months has again disappeared this year with continued activity and record breaking results in both established homes and land sales. Buyers quite simply have nowhere to go with overseas travel off the table, interstate movement across borders problematic and holidaying close to home a safe bet! Stock levels across all suburbs are and will continue to be a challenge for buyers. Many vendors are staying put in these uncertain times and those that are selling are raising their expectations on price as the market continue to steam ahead."
Sorrento
Seller's market.
January – June
# of Transactions: 87
Total: $202,872,060
Median: $1,935,000
Max: $12,200,000
A low stock environment so far this year in Sorrento, with the average days on market consistently hovering around 28 days. Normally I would consider around 30 days to be a balanced market, however I believe the complexity of the current market is different in this case. Anecdotally, it is my opinion that this days on market figure is, in reality, much lower – however the lack of stock and the large buyer pool from Melbourne, counterintuitively tends to drag out the process a little. Some agents take nearly all their listings to auction and let the buyers fight it out. This sale method naturally pushes the days on market higher while the three weeks of open for inspections are conducted. Other private sale campaigns are also dragged out to allow out of town buyers ample time to inspect the properties.
Where properties go under offer as soon as contracts are ready in suburbs like Mt Martha and Blairgowrie, we're seeing slightly less urgency from agents and buyers in Sorrento. That being said, there have been no overhanging listings that have taken a long time to sell this year in Sorrento. As it stands at the time of writing this article, there are 22 listings and only 10 of these listing have been online greater than 30 days, and only 5 of those greater than 60 days. A stark contrast to this time last year where there were 29 properties listed for longer than 180 days.
We haven't seen this current low stock environment since Winter of 2018. In fact, we currently have less than 60% of the Winter volume of last year mid-pandemic when the real estate market was all but closed.
Blairgowrie
Seller's market
January – March
# of Transactions: 61
Total: $98,733,036
Median: $1,400,000
Max: $3,850,000
April – June
# of Transactions: 26
Total: $41,756,024
Median: $1,500,000
Max: $9,000,000
The average days on market in Blairgowrie is 20 days, the strongest market alongside Mount Martha in terms of buyers waiting on the sidelines for housing stock. Prices are still very strong, auctions are exceeding expectation, and listings are so low that agents are now taking holidays. I have no doubt in my mind that this will continue to be a very strong market once the Spring weather rolls in. The builder demand in this market is high, with many permits being issued on knockdown rebuild blocks for the baby-boomer Melbourne holiday home buyers wanting a new coastal luxury lifestyle property to go with their inner city down-sizer pad.
Magic man Josh Callaghan was at it again with his auction prowess selling pretty much everything he touches over expectation, and none more so than 11 Maxwell St, the Hamptons inspired home with pool close to the village fetching $2.526M. There appears to be a buyer depth ceiling above $3M, which may be challenged this Summer, however, the sales that have occurred in this airspace have generally taken 3 or more months to move. However, one property which bucked the trend above $3M, at 20 Allan St in late February, was sold by Rob Curtain of Sotheby's International in just 17 days – a beautiful new coastal luxury home designed by Webster Architecture & Nathan Burkett Landscape Architecture.
Buyers below $1.5M who want a stroll to the front beach are now opting for fringe areas such as Rye's Tyrone Foreshore and White Cliffs where better value for money can be found whilst still enjoying the ti-trees and relaxed feel of a Blairgowrie.
What can we expect on the Peninsula for the second half of 2021?
It certainly doesn't look like the market on the Mornington Peninsula is showing any signs of slowing down. With everything that we have been through in terms of lockdowns and restrictions, it would have to take a serious economic shockwave to deter the number of out-of-town buyers we are seeing. Interest rates are still at all-time lows, the unemployment rate now sits below 5% in Victoria, and international travel is still a long way off. Despite the strong growth in the past year, there still seems to be good affordability for buyers.
We would expect the Mornington Peninsula to continue its significant growth curve for the second half especially as we head towards spring and back into the warmer weather.
Since coming out of hard lockdown at the end of October 2020, the BuyerX team on the Mornington Peninsula have bought 28 properties for clients, 9 of these have been genuine off market purchases which is an amazing effort in such challenging times.
Contact us see what we have got in the way of off-market listings in our database, there might be one that matches your search brief. Nonetheless, having a local expert on the ground, with a finger on the pulse of prices and knowing where to buy could be the difference between you being successful or missing out. Talk to us today and we will give you an honest opinion of the likelihood of what you are trying to achieve.
Mornington Peninsula Area Specialist
Michael Sier
Get in touch with Michael to find out more about the Mornington Peninsula property market, or make an appointment to discuss your requirements and see how we can help you get into your ideal home sooner.
Read more about Michael Sier
Free Consultation
The first step in your property journey, whether it be buying or selling, is gaining clarity on your situation.
Book a Free
Consultation
Or fill out a form