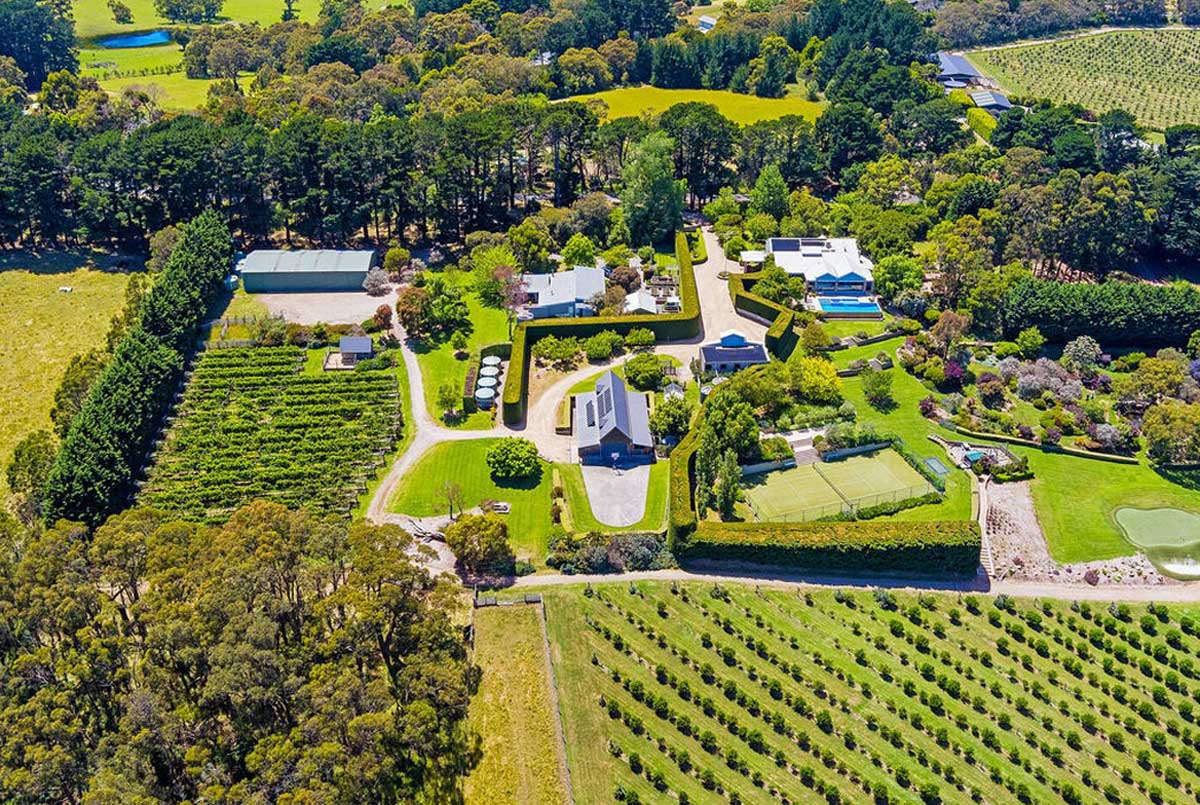 May 12, 2022
Seasonally, the first quarter always brings a slowing down of activity, though with minimal stock released onto the market this was felt more significantly than normal. The decline attributed by many elements such as the upcoming election, the impact of inflation and looming interest rate rises. The press jumping on the typical sensational story of "price falls" creating negative sentiment within the property market at large. As you can see in the PropTrack weekly search index below, the demand for property searches in Victoria has been on the decline now since the middle of last year.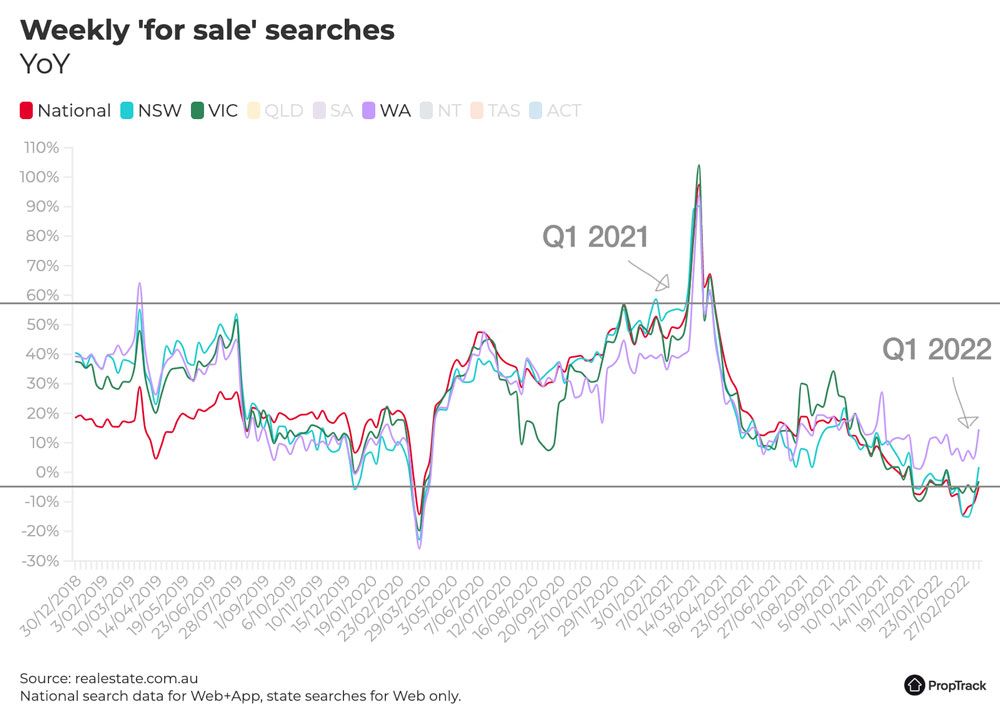 After the inevitable slowing down of the 2-year "bull market", buyers that are still looking for property from 12-18 months ago largely viewed this quarter's property prices as inflated considering the current concerns and kept their hands in their pockets.
Potential sellers have been cautious to list their homes, and those that have by and large have to adjust their expectations. As always, scarcer properties with excellent position, good sized land holdings, or architectural builds retained consistent levels of buyer depth and some still fetched premium prices. Compromised properties, though, that are on main roads, have small land sizes, or are too far from the beaches or public amenities, attracted a reduction in buyers and have extended days on market.
Below is an overview of the major million-plus markets on the Peninsula, with apologies to some of the fringe areas which are not featured below (please get in touch for my assessment of these markets if you are interested).
Northern Tip

Around the Hill

Southern End
Northern Tip
Mount Eliza, Mount Martha & Mornington
With its close proximity to Melbourne and easy access to jobs and facilities, the Northern Tip has a higher proportion of owner occupiers to holiday homes. Because of this largely residential population it follows more of a year long cycle, as opposed to the seasonal cycles of the more isolated holiday home suburbs down the southern end. This region experienced a higher day on market this quarter, with properties selling in the middle to bottom of the expected price range. A mere six months before these properties were selling at the top or above the range, so there was a definite change in the market, with a continued demand minus the runaway prices. Listing volumes decreased as vendors became reluctant to put their properties up for sale. Buyers that had already sold and needed to buy were still present, but those without a strong incentive or urgency to buy were willing to wait.
Mount Eliza
Balanced market
January – March
# of Transactions: 72 (vs 143 same period 2021)
Total: $143,275,900
Median: $2,001,700
Max: $4,250,000
Days on Market: 35
The brakes felt like they had been applied in Mt Eliza after leading the way at the top of the Peninsula since the Pandemic began. Affordability issues, much like what was seen in Blairgowrie and Mt Martha, took the sting out of the market in Mt Eliza, with a 50% decrease in the volume of sales from the same period last year. The days on market drifted out to 35 up from 21 at the start of Summer, in line with the discussed decrease in urgency from buyers. The median price continued to surge ahead for the quarter to $2M, but there was an absence of the usual big listings coming to market. The "golden mile" was quiet, although we did get three or four in Glen Shian hit the market between $3M & $4M, as well as 3 Watts Crescent at $4.25M.
Mount Martha
Balanced market
January – March
# of Transactions: 91 (vs 157 same period 2021)
Total: $181,198,834
Median: $2,000,000
Max: $5,785,000
Days on Market: 39
Along with Mt Eliza and Mornington, the market in Mt Martha felt as though it took a bit of a breather this quarter, however, quite a number of $5M+ sales still occurred. Properties such as these in the golden triangle at 20 Dominion Rd, 29 Bay Rd and 3-5 Leggatt Crescent. Acreage at 11 Century Drive sold for over $5M, and although the eventual sale of "Biscayne" at 6-8 Glenisla Drive occurred just outside the quarter in April, it deserves mention for setting a new suburb sale record of $7.6M. The scarce properties in coveted locations still attracted buyers, but buyers challenged the price guides more. Wary of overpaying, properties listed too high initially were not fielding offers or received timid bidding at auction. The median price blew out so dramatically throughout the seller's market of the past 2 years that beachside Mt Martha is barely affordable for young families, with the quarterly median price reaching the $2M mark for the first time. Days on market weren't as ominous as 39 days sounds, as there were a number of either price-reduced or overhanging properties sold which pushed this average out. The real figure sat closer to 30, but nonetheless is on the cusp of changing to a buyer's market.
I asked Sam Danckert of Danckert Real Estate for his view on the market. "The popularity of Mt Martha continues to surge with a notable shift in the profile of buyers we are seeing in the local market. The obvious lifestyle appeal of Mt Martha is further emboldened by the Peninsula's world-class amenities which are accessible within easy driving distance. With a host of lifestyle attractions such as beaches, boating, golfing, boutique shopping, restaurants, and wineries on offer, buyers are recognising the opportunity to experience a truly first-class region either as a holiday setting or on a permanent residential basis." Danckert Real Estate was responsible for two of the $5m+ sales so far in 2022.
Mornington
Balanced market
January – March
# of Transactions: 141 (vs 255 same period 2021)
Total: $171,321,290
Median: $1,295,000
Max: $3,750,000
Days on Market: 36
At 36 days on market for the average selling period for a home, Mornington is now very much a balanced market. Homes with compromises, such as main roads or tricky floorplans/land sizes, became more difficult to sell and required careful pricing to avoid lengthy campaigns. Auctions were few and far between, however, 13 Caraar Creek Lane achieved a fantastic result at auction listed by Liz Todd of Coastal Agents. Homes increasingly began their marketing campaigns off-market to test the buyer depth and price expectation before listing online. This was a strong indication of vendors growing nervous about selling, giving preference to squaring away a reasonable offer prior to going to market. This strategy yielded multiple successes this quarter for our clients. Transaction volumes were down nearly half of the same time last year, a common theme across the entire Peninsula, yet translated to higher days on market and median price.
Liz Todd of Coastal Agents shared her perspective on the current market. "With property sales normalizing and interest rates increasing, it is a time for a new perspective. A drop of 0.2% in sales April for Melbourne is not a disaster against the background of 30-40% price increases over the past 18 months. An interest rate increase from record lows comes as no surprise after a decade of interest rate drops. Yes more houses will be for sale, days on market will lengthen and vendor expectations will need to moderate, but we are returning to a more normal and honest market where only genuine vendors and genuine buyers will transact, and that's a re-set that has been inevitable and overdue. Quality property will continue to transact and those buying and selling in the same market will be unaffected, except that now buyers will more likely want to sell before they buy."
Around the Hill
Red Hill, Shoreham, Main Ridge & Flinders
Sitting alongside Sorrento and Portsea as the strongest markets on the Peninsula currently, this blue-chip lifestyle market around the hill continues to be a very strong demand and short supply market. There was a steep drop in listing volume, though the property quality was very high. There was little, if any, slow down in the market, as prices continued to rise despite the extremely low stock levels, with days on market dropping to just 20.
Seller's market
January – March
# of Transactions: 16
Total: $52,725,000
Median: $3,057,000
Max: $9,850,000
Days on Market: 20
Acreages still had record demand and successfully went to auction, with an auction record price of $9.85m achieved at 18 Meakins Rd, Flinders. The grand scale luxury lifestyle property at 29 Callanans Rd, Red Hill South, sold after just 17 days on the market between $25m and $27m. And continuing the auction frenzy of waterfront properties, 27 Lexington Ave, Shoreham, fetched in excess of $9M on a much lower price guide, exceeding all expectations. A neighbouring home sold off market shortly thereafter to an underbidder for a similar price tag. We also saw three or four waterfront homes along Balnarring Beach and Somers fetching between $5.5M and $8M. Speaking of Somers, the largest sale recorded around $30m in Somers at 1 Sandy Pt Rd in early January.
Southern End
Portsea, Sorrento & Blairgowrie
A large proportion of buyers in the Southern End fit the profile of retirees and downsizers, with readily available funds and less vulnerability to interest rate movements or other property market influences in comparison to younger families. It was unsurprising then that this region showed little drop in demand over the last quarter, with most properties selling particularly in Portsea and Sorrento within the normal days on market for this time of year. The first two months of the first quarter are traditionally strong on market in the Southern End, due to the holiday season drawing people to the area and increasing interest and enquiries into adopting the lifestyle permanently.
While a few clifftop properties privately auctioned within the $30m range, listings primarily came from the less sought-after middle or back beach areas of Portsea and Sorrento and sold within the normal 30-day selling campaigns. With the past two summers showing very short days on market with limited supply stock, in comparison this quarter brought more availability, though not in the A grade market.
Portsea
Seller's market
January – March
# of Transactions: 18 (vs 44 same period 2021)
Total: $78,991,000
Median: $3,850,000
Max: $9,600,000
Days on Market: 54
It isn't often that statistics don't tell the full story, but Portsea was the perfect example of how this can be true. High days on market, yet the sellers held the upper hand. How could this be? For a start, half the sales were either auctions or expressions of interest, which padded out the marketing campaign by 4 weeks. Combined with some overhanging properties from 2021 finally selling, swaying the average even higher. In between the long auction campaigns and overhanging sales, there were a small spattering of private sales where properties sold between 2 days and 2 weeks. Add to this a couple of stunning A-grade homes selling in excess of $9m in Macgregor Ave and Point King Rd, and three between mid $4M and mid $9M in Macgregor Ave that sold within a week in late January. If we omitted the overhanging properties with difficult compromises such as location and overpricing, the days on market figure would be closer to 30, if not high 20s. Yes this market is not as strong as it was at the peak, but buyers are still outnumbering sellers.
Sorrento
Seller's market.
January – March
# of Transactions: 37 (vs 59 same period 2021)
Total: $95,883,000
Median: $2,451,000
Max: $6,000,000
Days on Market: 22
Sorrento continued to chug along on low stock levels whilst holding ground on prices, and at 22 days on market was on par with Flinders as arguably the most buoyant market on the Peninsula. The year began with a $6m sale at 14 Lentell Ave, and a triple titled block with a matching price tag went a week later at Park Road/Sullivan Street. This area held consistently on sales and prices, with properties coming to market and selling either privately or under the hammer at auction. Buyer depth did decrease, in line with what all markets experienced, but demand was still stronger than supply. For the time being Sorrento remains a seller's market on low stock volumes.
Blairgowrie
Balanced market
January – March
# of Transactions: 33 (vs 61 same period 2021)
Total: $69,604,000
Median: $2,145,000
Max: $6,480,000
Days on Market: 30
The star performer on the Peninsula throughout 2020-2021, Blairgowrie started the year off with a bang with a huge sale at 52 Royadie Road, on over an acre and bordering a back beach, purchased for $6.48m. A few other large offerings for Blairgowrie sold within the quarter, such as 21 Montford Close (off-market) and 28 Derrick St, but market supply progressively dried up and was lacking in quality listings. It sat at a healthy 30 days on market, but the urgency had dissipated. While some of this drop could be attributed to seasonal fluctuations, it was likely a result of naturally reaching the peak of a stellar 2-year run. Buyers in the over $3m budget increasingly turned their eye toward Sorrento, as the price gap between there and Blairgowrie closed (this time last year Blairgowrie's median was $1.4m and Sorrento's $1.9m, whereas today we have Blairgowrie at $2.15m and Sorrento at $2.45m), and subsequently, finance-agnostic buyers saw more upside in purchasing within Sorrento. Buyers who were looking a year ago and were priced out started to search further afield for better value this quarter in Tyrone Foreshore, Rye.
What can we expect on the Peninsula for the next quarter of 2022?
The next quarter will mostly likely be a sideways moving market with enough buyers for the available stock, but increased pickiness and fear of overpaying. With less stock and more reluctant buyers, the days of the bull market that saw stiff buyer competition and offers exceeding price guides are gone for now. We will continue to see an elevated concern associated with rising interest rates, though as we know prices do not always fall as a result of these changes. What we will likely experience moving forward is an impact on buyer's access to credit, with people presently eligible for $1.5m loans unable to borrow more than $1.25m a year from now. This will not necessarily correlate with a 10-15% drop in property prices, it just means buyers' budgets will reduce. How that will unfold will be a visual shift of buyers moving down a bracket. So those that were looking at $2m properties will be refocusing on those fitting a $1.5m budget, and those looking to purchase $1.5m properties will be looking at $1.3m. Buyers will remain active and wanting to buy, but will be sourcing more homes from the lower end of the market. Overall, there are no panic stations as we head into the next quarter. We are still in a short supply market across the board, but the peninsula is resilient and always slightly insulated from what's happening in the economy so will retain its buoyancy. It tends to be a market where, particularly at the top end, houses don't change hands very often, so we rarely see a flood of stock hit the market unless things get really bad in the economy.
These changing market conditions place the onus on the agent to set realistic price guides that better reflect the needs of the seller while also incentivising the buyer. Vendors that keep highballing property prices without the scarcity or A grade factors will blow out their days on market. In sticking with a well-worn pattern, A grade will remain unaffected. As is common in times of uncertainty, vendors will rely more heavily on off-market listings to test the waters through the agent's available database in a more non-committal selling strategy style.
While there are always a number of these off-market listings within each suburb, there are risks involved in these purchases, and while within an open market you can see what your competition is willing to pay, these listing do not always reflect true market value. This further highlights the importance of a buyer's agent in providing an invaluable opportunity for buyers to source the property that suits their brief, void of competition, while also ensuring due diligence is undertaken and a fair sale price is reached. We have quite a number of off-market properties in our database currently, some A grade, while others not meeting our tough standards.
Mornington Peninsula Area Specialist
Michael Sier
Get in touch with Michael to find out more about the Mornington Peninsula property market, or make an appointment to discuss your requirements and see how we can help you get into your ideal home sooner.
Read more about Michael Sier
Free Consultation
The first step in your property journey, whether it be buying or selling, is gaining clarity on your situation.
Book a Free
Consultation
Or fill out a form