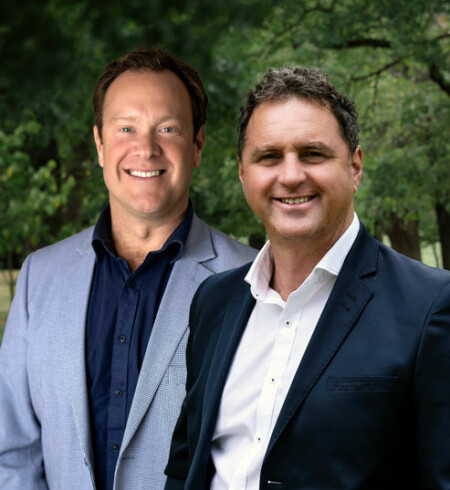 Tim Picken & Andrew Smith
Position:
Director, Principal Buyer Advocate
Tim Picken
Tim's comfortable interaction with people has stood the test of time and he is considered a leader in the real estate industry. He's known success as a real estate agent since he was 20 years old, coveted with awards during his tenure as Partner at both Kay and Burton, and Jellis Craig.
Clients often turn into friends and while Tim is clear eyed about the ups and downs of the business, he believes he's chosen a career that can genuinely help people. Therefore it was a natural fit for Tim to transition into the advisory side of the industry where he now represents buyers on the acquisition and advises sellers through the marketing and readying of homes for sale in conjunction with the best selling agents in the local Boroondara and Stonnington areas.
Tim prides himself on being a great Dad to his 11yr old twins, Benny and Lulu, and plays an active part with them in the community through schooling, sport and recreation, and is a corporate sponsor of the Glen Iris Gladiators JFC. Golf also occupies a place of considerable importance in his life, being a member at Kingston Heath Golf Club.
Tim Picken's reputation as one of Melbourne's finest property advisors is continuously reinforced by outstanding results.
Andrew Smith
From the moment he left school Andrew knew he wanted to be in real estate. The industry was just a natural fit for a personable, hard working young man and he sold his first property at 18 years old. That success continued and he soon built an enviable track record across the Stonnington area. Andrew naturally connects with people and enjoys helping them. He believes this is what real estate is all about.
Andrew has worked for some of Australia's largest property firms, Mirvac and Asia Pacific Building Corporation, but is best known for his reputation and successful tenure with Kay & Burton South Yarra.
Having renovated and developed a number of residential properties in the Stonnington area, Andrew has a great understanding of building, planning, construction process and marketing.
He likes people and they like him. His ability to listen carefully is an essential attribute honed by three daughters eager for his attention. His daughters all attend schools locally in Stonnington, and Andrew is well versed in the knowledge of the various school zones and the effect on the housing market.
Andrew appreciates a challenge, whether it's walking the Kokoda Track or negotiating a great result for his clients. Nothing is too much trouble or too hard. He is prepared to do everything he can for the people who depend on him to deliver their real estate goals.
Significant Involvements
Tim & Andrew have been involved in over $3B of real estate transactions across their 20+ year careers. Some significant achievements for clients are below:
| | |
| --- | --- |
| $ 20.75 Million | Toorak |
| $ 12.2 Million | Toorak |
| $ 10 Million | Armadale |
| $ 9 Million | Malvern East |
| $ 6 Million | Toorak |
| $ 5.5 Million | Toorak |
| $ 4.1 Million | Armadale |
| $ 4 Million | Malvern |
| $ 4 Million | Malvern East |
follow BuyerX on Instagram.
@BuyerX - Buyers Advocates

Real Estate Agent