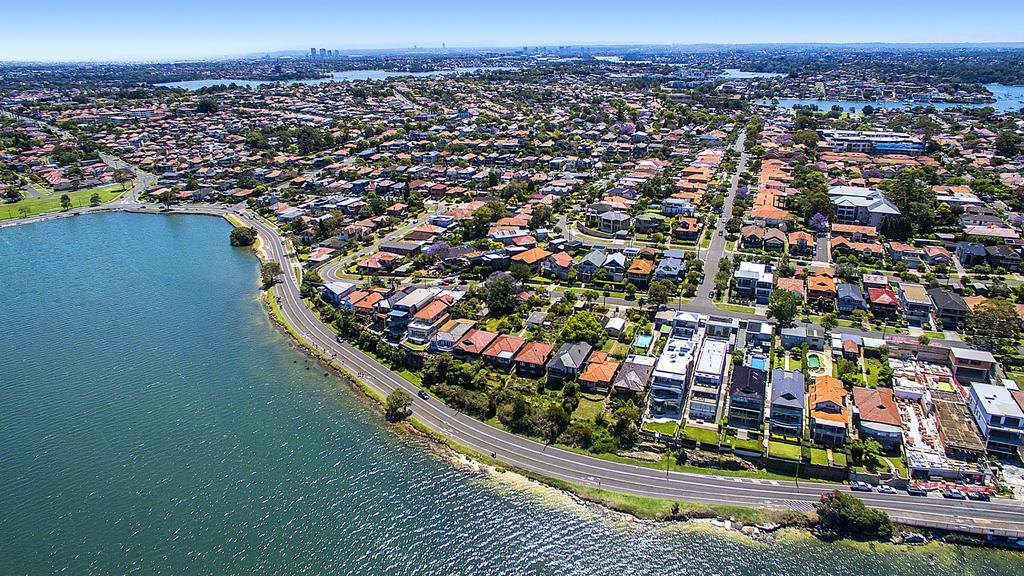 Apr 10, 2023
The Sydney property market defied gravity this quarter, as home buyers faced rapid price rises and strong auction competition not seen since 2021. This upswing in property values followed the dramatic housing market crash in late 2022, which in turn came off the back of an unprecedented mid-pandemic price spike.
The pause from rate hikes in April appeared to add to the current exuberance in housing market performance, which was further buoyed by persistently low listing volumes, high overseas migration, and expectations that the cash rate was at or close to a peak. Proving how quickly the market can turn on the mere whiff of easing inflation and interest rates, this quarter's market managed to recuperate about 30% of its peak-to-trough losses. Home prices settled at 4.5% end of quarter, up from their dip in November last year, and are now just 3% below their February 2022 peak.
The median home value rebounded 4.8% to $1.0528m at the end of quarter, its highest level in eight months. Sydney had an auction clearance rate of 74.3% last month, the first time it hit above 70% since October 2021, reaching upwards of 75% in the Inner West. Stronger clearance rates and prices prompted a recent increase in homes for sale and appraisals, but growing concern about mortgage stress was also a factor. Duncan Gordon from Raine and Horne said, "We watched the market improve quickly in the first quarter of the year and it continued to perform strongly in the 2nd quarter, this has been reflected in auction clearance rates. We monitor 12 suburbs including and surround Newtown, listed are the monthly auction clearance rates for these suburbs so far in 2023. February 70%, March 83%, April 84%, and May 86%".
"This quarters market was more challenging compared to three months ago. Meeting owners' price expectations required twice the effort due to lingering effects from the declining market and changing economy. Stock levels were at an all-time low, intensifying the competitive environment. Buyers and sellers needed to navigate carefully in these demanding conditions", said Dib Chidiac from Dib Chidiac.
This lack of stock appeared to be the main driver of this quarter's strong market conditions, though sellers still needed to be mindful, as Matthew Hayson from Cobden Hayson added, "It was not a market where a seller could be overly bullish, but if they were reasonable with their expectations they could expect a sale within 25 days and possibly good competition at auction".
Focusing in on the different market sectors, professionals and growing families remained active but were certainly sensitive to rate adjustments, so while confident and committed to buying, every rate rise knocked them around. The downsizer market provided a very strong buyer pool, less deterred about rate increases, their motivation was more around finding the appropriate next long-term home.
The upsizer market was strong, with 3 bedroom homes dominating the market. There were less 2 bedders for sale, which is the most common type of home in the Inner West market. This sector experienced a real scarcity of property which heightening demand and in turn increased competition, driving prices upward. The primary reason for this scarcity was the sellers of these potential properties on the market, in most instances, needed to first buy before selling, and in many cases were unable to transact due to the very limited stock on the market, which therefore stopped them from selling.
The luxury sector continued to perform well. Waterfront homes, in particular, consistently demanded a premium as affluent buyers navigated the market without being significantly affected by interest rates. Sub $1.5m houses were still in demand with first home buyers eager to scrape it in before the government initiatives with stamp duty concessions are cut, and as of the start of the year investors re-entered the market due to the rental crisis rising landlord profit margins well above the pre-covid growth rate.
Houses and apartments that required work or renovations presented great opportunities to buy well, as demand was low with buyers more inclined to purchase properties that were either finished or required minimal effort, and development sites continued to struggle due to increased cost in building. With property presentation key to building a strong campaign there were, and will continue to be, firm buying opportunities for the ugly duckling houses that are often overlooked. That some buyers view as being too expensive to improve, or they don't have the time to take on a project.
As always, it was essential to stay informed if you were to do well this quarter, with Brandon Nguyen from Bresic Whitney explaining, "Some agents were still over guiding properties, and as buyers in general added 15-25% to a guide in their head, they were overestimating how much a property could sell for. Buyers who kept in touch with agents and had an ear to the ground were at an advantage". This market has been extremely difficult to navigate, with rapidly changing conditions and uncertainty around when the right time to buy or sell might be. Even within the Inner West, no two areas reacted in the same way. Nothing is clear or predictable. For instance, a common scenario was a buyer entering the market with $1.9m to spend, finding a property with a guide of $1.8m, which then was sold for more than they could spend at $2.2m. Whether the agent overcooked the guide, or the interest wasn't there, sales like this regularly fell through and the agent sold for $1.9m. Or, in the case of 32 Malcolm Street in Erskineville, a 4 bedroom 3 bathroom 2 car garage period style home, where it exceeded all expectations and sold vastly above the price guide of $2.8m for $4.2m.
It's little surprise then that there were differing experiences amongst buyers agents across Inner West. Joseph Fenech from Hudson McHugh felt it had been "definitely buyer eccentric with tons of people needing to buy and not many homes to sell". Dib Chidiac had this to say, "This quarters market appeared fairly balanced, requiring excellent buyer work and a high skill level to achieve optimal results". While Arden Savio from Bresic Whitney shared his experience, "The first 6 months of this year was very much a sellers market for all properties below $2m. Since April the higher price points felt like they had a bit of momentum with some big results across the Inner West. We averaged between 5-6 registrations at every auction which would indicate it a sellers market, however the tides were turning at the quarter's end as buyers began to sit on their hands and in some cases fail to meet the vendors expectations, resulting in price reductions and even pulling properties from the market altogether". Of course, this assessment then split further upon breaking down the market into sectors, as Matthew Hayson explained, "Quality property was far and away a sellers market, B Class property was balanced, while C Class property was in favour of buyers".
With buyers seemingly awaiting the price cliff, that was predicted over the past three years but is yet to eventuate, market expectations were often skewed and unrealistic. As the market bounces again with prices set to rise between 5-10% over the next 12 months, those that are ready to buy need to hurry up or miss out.
Notable Sales
Notable sales included a 2 bedroom 1 bathroom classic terrace at 12 Wise Street, Rozelle. Trading 24 months ago for $1.45m, it was then resold for $1.55m this quarter, showing 7% growth. This property had deteriorated as it was rented, and the presentation was poor, but it presented an interesting metric to review over the past two years as it experienced a touch of growth before a noticeable market correction, then back into positive growth.
Another sales highlight came in the form of a modern 2 bedroom 1 bathroom apartment within the tightly held harbourfront complex "Cameron's Cove", 1/13 Grafton Street, Balmain. With a price guide of $1.8m and sold at auction with three bidders for $2.4m, it achieved a block record by $400k. 18 Evans Street in Balmain was purchased in February 2022 for $2.4m, and resold this quarter in the same condition for $2.55m.
With a guide starting at $2.3m, and 84 groups through in just 2 ½ weeks of opens, 6 Rawson Street in Newtown held great interest among buyers. A buyers agent ended up securing the property for their client, who were also the first ones to place an offer on the property, for $2.81m.
Another noteworthy sale was at 19 Lea Avenue, Russell Lea, a 3 bedroom 2 bathroom 2 car garage immaculately maintained brick home that was on the market for the first time in 60 years. It had 6,863 online views, 22 enquiries, 49 inspections, 13 contracts placed and 21 days on market. The price guide was $2.5m, and it was sold prior to auction for $2.95m.
108 Stanmore Road in Stanmore received 75 visitors through the 4 week auction campaign, before going to auction with 3 registered parties; a buyers agent and client looking to upgrade from their previous property in Stanmore, an older couple with three grown up children living in Lilyfield, and the winning bidder being upsizers from Newtown. All three registered parties bid at auction, with a guide starting at $2.6m and selling for $3.011m.
The next notable sale was a 3 bedroom 1 bathroom single story federation home positioned directly across the road from the heritage listed Dawn Fraser Baths and Elkington Park at 72 Glassop Street, Balmain. An incredible auction for a basic home with dual street access (hard to find in Balmain) the property attracted over 140 inspections, had 22 registered bidders at auction, and sold for $3.265m, $765k above the reserve.
A breathtaking contemporary architecturally designed 5 bedroom 6 bathroom 2 car garage at 55 South Street, Strathfield, had 18 enquiries, 34 inspections, 7 contracts, and only 16 days on market, before selling at $500k above the reserve for $5.4m.
The Inner West – Looking ahead to the second half of 2023
With inflation still well above the RBA's target band, expectations are for a further series of interest rate increases this year. That means that rates will continue to be a headwind for prices, but, unlike in 2022, the peak of interest rates is likely close. Furthermore, this headwind is being offset by a limited flow of new properties hitting the market, and strong fundamentals for housing demand. With auction clearance rates strong, and fewer properties hitting the market during winter, price growth is likely to continue in the near term. Despite recent gains, the market remains vulnerable to weaker economic conditions and stretched household balance sheets. James Price from Hudson McHugh said, "Buyers and sellers seem to be in two states of mind. A lot of buyers are waiting for more stock to come to market, while a lot of sellers are waiting to see if the market will continue to improve. There is also a segment of prospective vendors who are hoping they don't have to sell as a result of their fixed mortgage expiring".
It's hard to imagine the recent pace of growth in housing values being sustained while sentiment is close to recessionary lows and the full complement of borrowers are yet to experience the rate hiking cycle in full. Matthew Hayson said, "To be fair, I think most people are confused about what's unfolding. Never in history have prices gone up with such rapid rate increases, it's quite the dichotomy. Clearly the lack of supply is underpinning values but as rates possibly go higher and stay that way for longer, the cash reserves are being depleted, so we could see a larger wave of listings coming to market in Spring". As uncertainty weighs heavily on the economy, it is extremely difficult to predict what the future holds, but it is far from void of hope. Duncan Gordon said, "Considering all the contributing factors, I sense prices will remain strong in winter, and the current heat in the market will start to simmer as we enter spring, as buyers are provided with more choice & opportunities and some sellers are a little more motivated".
Winter looks tight as people are already chasing the sun to Europe and Asia, or the snow locally, which should translate to the current conditions and sentiment remaining stable until at least September. That said, this market and the economy is highly unpredictable, so it would be fool's gold to read too much into the so-called experts opinions or bank forecasting. As it was last quarter it is again, watch this space.
Sydney Inner West Area Specialist
Hamada Alameddine
Get in touch with Hamada to find out more about the Sydney Inner West property market, or make an appointment to discuss your requirements and see how we can help you get into your ideal home sooner.
Read more about Hamada Alameddine
Free Consultation
The first step in your property journey, whether it be buying or selling, is gaining clarity on your situation.
Book a Free
Consultation
Or fill out a form