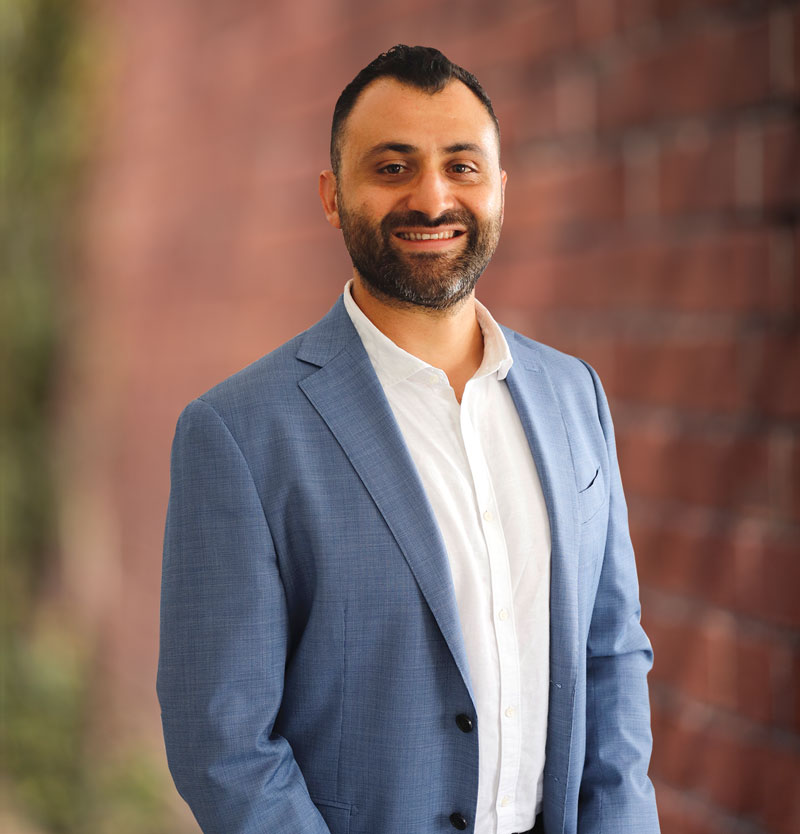 Hamada Alameddine
Email:
hamada@buyerx.com.au
Personal Experience
With over 20 years' experience spanning personal and professional property buying, as well as having lived in the inner west since his childhood, Hamada Alameddine has a comprehensive knowledge of Sydney's inner west.
His trusted relationships and network delivers his clients valuable advantages, and he is passionate about helping his clients secure their home. An active and successful property investor, his eye for driving capital appreciation through renovations and small scale developments has given Hamada the tools and attention to detail to help his clients buy the right property.
Over the years, Hamada has located and secured homes on and off market for his local and international clients. Hamada's plain-speaking strategic negotiation skills are a key reason his longstanding clients trust his ongoing guidance in property matters.
With over 25 years' experience spanning accounting, broker finance and property, Julio Labraga's comprehensive knowledge and insider network delivers his clients valuable advantages. Along side Hamada in Sydney's Inner West property advisory team, Julio's passion is to help clients secure their property ambitions. An active and successful property investor, his eye for driving capital appreciation with smart design has attracted media coverage in Domain Innovation, Houses magazine and Channel 7's Better Homes & Gardens.
Significant Involvements
Hamada & Julio have been involved in over $1B of transactions over their distinguished careers.
Client Testimonials
We recently engaged Hamada to act as a buyer's agent for us in our purchase of a property in Sydney. We are based in Brisbane and due to Covid-19 travel restrictions, we were unable to travel to Sydney to view prospective properties, which was a nerve-wracking prospect. We found Hamada to be incredibly helpful, knowledgeable and reliable in our search for the right property. He was very easy to communicate with and happy to share his knowledge with us and answered our questions promptly. He attended many viewings and auctions, often recording a walkabout of the properties or doing a live FaceTime showing of the properties without missing a beat. He also has very good relationships with many agents – we cannot recommend Hamada highly enough.
Gregor Rozenberg & Fiona Strain | Client
As first-time 'upgraders', working with Julio and Hamada gave us the confidence to sell and buy in an uncertain market. As always, Julio listened to what we wanted, worked closely with us to provide options, and guided us through each step of the way with consistently sound advice.
We would not hesitate to recommend Julio and Hamada to any of our friends and colleagues looking for assistance with their selling or buying property… and we often have!
Brett Rolfe | Client
My recent experience with BuyerX was nothing short of phenomenal. From start to finish, Julio & Hamada were the consummate professionals. They were inquisitive, eager to tease out what my key requirements for my new home were and separate out the essentials from the nice-to-have elements. They applied great judgement weeding out properties that on paper fit my brief but in reality would have been the wrong property. Julio & Hamada's strong relationships with Real Estate agencies uncovered homes for me to review before other prospective buyers to help avoid having to waste time at Open Houses. Finally, they negotiated the best outcome for me when purchasing a property off-market to ensure I secured the home at the best possible price.
I cannot fault my first experience of using BuyerX, specifically the Inner West team. I'd recommend them to anyone looking for help on their property journey and will most definitely be coming back when it's time for the next change.
Chona Navarro | Client
As first home buyers, we were pretty reluctant to spend cash set aside for the deposit on a buyers agent. After spending months of not even coming close to closing a deal, once we engaged Julio our pre-auction offers were suddenly being taken seriously by real estate agents.
It was surprising how many off-or-pre market opportunities we weren't seeing and it was also great to get a look in at these before the general public. Julio was able to negotiate a good price on the house we went on to buy, easily offsetting the cost of his fee and then some, in comparison to what it would've probably gone for at auction.
We would certainly recommend Julio and the BuyerX team to others. Julio was really easy to work with and we appreciated the transparent and seamless approach he took throughout the process.
Annabel & Reuben Evans | Client
Julio was an integral part of our purchase process. We found our dream home in Balmain where there were a number of other buyers competing for the same property. Julio's negotiation techniques ensured we were able to secure the property before there was time for our offer to be shopped around to other buyers and consequently bought the property for less than what we were prepared to pay. In addition he negotiated a 90 day settlement term which enabled time for us to have a little breathing room to get our finances in order. I highly recommend using a buyers agent to remove the emotion from the transaction.
Eleanor Hanrahan | Client
My husband and I debated on whether a buyers agent would be a worthwhile investment for us. We are organised, decisive and had plenty of time to hunt. After high recommendations we made the right decision to bring Hamada onboard. We started watching the inner west property market closely around September 2020 and by the time our finance was organised and approved the market had erupted into an unprecedented frenzy. Hamada helped keep our expectations realistic. He offered invaluable guidance in an ever changing market. Hamada is organised and great with communication. He's also down to earth and good company. Avoiding busy Saturday inspections with our two young children was another huge benefit . In the end we got the house we wanted for a far better price than expected thanks to Hamada and his strong auction strategy. Highly recommend.
Shannon Burns | Client