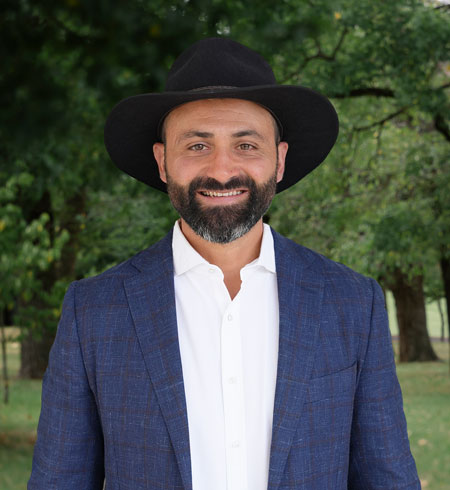 Hamada Alameddine
Position:
Principal Buyers Agent
Personal Experience
With two decades of property acquisitions and a background in the construction industry, Hamada Alameddine brings a unique perspective to the home buying and investment property purchase process.
As a lifelong Inner West local, Hamada's deep knowledge of the surrounding suburbs allows him to advise clients on all aspects of the neighbourhood they are considering, beyond just the surface level, or what you will find on the internet. Hamada has built strong industry connections in real estate, allowing him to provide clients with exclusive access to off-market and pre-market properties and important details direct from trusted agents.
So much goes into the process of finding your ideal property. The scope identification, search, sourcing, due diligence, negotiation, and auction processes all have their own intricacies. Of course, a great deal of emotion comes into play too, when considering some of the largest financial decisions of your life. Hamada understands this and uses his experience to minimize the impact of these factors on you.
Hamada's biggest joy comes from the kind words that happy buyers share with him, after they've secured the property they hoped for, without wasting their weekends searching, with a minimum of stress, and at a much lower price than they could've managed for themselves.
Significant Involvements
Hamada has been involved in over $500M of transactions over his distinguished career.
Here's what our clients have to say
Hamada from BuyerX Inner West is an absolute weapon. Buying our first property on our own was like constantly opening a can of worms and took us too much time to get up and running. The first call with Hamada instantly gave myself and my partner direction and clear mindset toward where we should be focussing. We bought within a couple of months of low stock levels. Hamada is passionate, patient and incredibly knowledgeable. He was so invested in getting good outcome. There was no task too small and even put up with calls and messages every day. It was a pleasure sharing the experience with him. He's just a good, good person... and the perfect one to have by our side in the journey of making the biggest purchase of our life. Also, if you haven't seen him in auction on the auction floor, check out his Instagram. I would NOT want to bid against him. My sister in law was standing behind the under bidders and they were being warned by the people they were with before the auction started. His reputation is warranted.

Kim & Lexi

This is the second time we have engaged Hamada and we could not be happier in doing so. Our brief was for a very specific location on a set budget. He was very responsive and we could contact him at any time (he must not sleep!). Hamada did a fantastic job in working and negotiating with numerous agents in the area. He provided us with off and pre-market opportunities. We ended up going to auction and he did an amazing job securing the property. I must say without his bidding strategy we would not have secured our dream property. We cannot recommend his services enough and would highly encourage anyone wanting to secure their dream home to engage him!

Theva & Akalya

As first home buyers, we were pretty reluctant to spend cash set aside for the deposit on a buyers agent. After spending months of not even coming close to closing a deal, once we engaged Hamada our pre-auction offers were suddenly being taken seriously by real estate agents. It was surprising how many off-or-pre market opportunities we weren't seeing and it was also great to get a look in at these before the general public. Hamada was able to negotiate a good price on the house we went on to buy, easily offsetting the cost of his fee and then some, in comparison to what it would've probably gone for at auction. We would certainly recommend Hamada and the BuyerX team to others. Hamada was really easy to work with and we appreciated the transparent and seamless approach he took throughout the process.

Annabel & Reuben Evans

My recent experience with BuyerX was nothing short of phenomenal. From start to finish, Julio & Hamada were the consummate professionals. They were inquisitive, eager to tease out what my key requirements for my new home were and separate out the essentials from the nice-to-have elements. They applied great judgement weeding out properties that on paper fit my brief but in reality would have been the wrong property. Julio & Hamada's strong relationships with Real Estate agencies uncovered homes for me to review before other prospective buyers to help avoid having to waste time at Open Houses. Finally, they negotiated the best outcome for me when purchasing a property off-market to ensure I secured the home at the best possible price.

Chona Navarro
follow BuyerX on Instagram.
@BuyerX - Buyers Advocates

Real Estate Agent